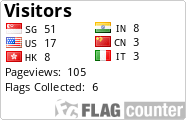 Word for the Year 2017
With You oh Lord, there is Fountain of life, and in Your Light we shall see light in Jesus name, Amen.
Psalm 36 Vs 9
As you confess the above word from the LORD for this year by faith, it shall surely prevail over every contrary situation in your life in Jesus name, Amen.
Daily Prophetic Utterances.
Saturday
========
Saturday is the last day of the week, the rest of the LORD shall be your portion, your rewards in labour shall not be plundered by spiritual robbers in Jesus name, Amen - Ecclesiaste 5:18-20
IMPORTANT NOTICE
If the LORD lays it into your heart to sponsor or co-sponsor our proposed 30-minutes weekly Radio Program tagged:
"The Threat of Realities" by
Pastor Olufemi O. A
Please call any of our phone numbers for details. God Bless you.
Buy the books below to add value to your life:

MONTHLY SEMINARS
YOU CAN HOST ANY OF OUR FREE MONTHLY SEMINARS:
Financial Empowerment
and
Singles & Marriage
Click here for more info.
* To read Christian books online or to download your own copy Click Here!
* To download a free complete Bible into your Mobile phone today, visit: http://wap.jolon.org right on your phone now!
* To download a copy of Bible: Click Here! * Download a free Ebook titled: Get Revolution in World Missions.
Where the Need is Greatest
A gift of any size supports the lifesaving mission of the American Red Cross whether it's responding to a disaster, collecting lifesaving blood, teaching skills that can save a life, or assisting military members & their families. Send your help where it is needed most:www.redcross.org


FUND-RAISING APPEAL
TO ALL AND SUNDRY FOR OUR FIRST
WORSHIP CENTER AND YOUTHS EMPOWERMENT CENTER!!!
Please click here for full details
2017 : OUR YEAR OF TOTAL RECOVERY!
IT IS TIMES OF REFRESHING AS YOU READ

September 2017 Message:

Topic: Entering the Kingdom of God

Bible Reference: Seek first the Kingdom of God and His righteousness and the rest shall be added to you. Matthew 6 vs 33


We give all the glory to the Ancient of days, Jehovah Almighty God for bringing us to the last month of the third quarter in the year. He deserves our praises, honour and adorations, Halleluyah!

This month, the exigency of this message is precipitated by the current situation of the earth in the plan of God. Hence this message is sent out to prepare those seeking to enter the kingdom of God at the end of their sojourn on earth for final exit.

Not that God wants to kill you neither is it that you want to die now but it is a must for those travelling to get prepared before the day of departure or else so many things may go wrong with such journey. To enter the kingdom of God, it is a must for us to depart this earth and leave for the beyond. Either of these two ways will eventually take us out:

1. Death - Hebrews 9 vs 27.
2. Rapture - 1 Corinthians 15 vs 52, 1 Thessalonical 4 vs 16,17

Some people don't believe in rapture because they are not Christians but at least everyone knows there is something called death. However, we as Christians believed both and should be prepared for any of them in case it happens. It is our desire to enter the kingdom of God but we must be informed about the prerequisites needed to qualify because not all that claimed to be Christians would be there. Autmatically, if you know what can qualify you, then you already knew what can disqualify you. The basis is who you are rather than what you do.

Having searched through the bible especially the new testament where the kingdom of God and how to enter are dominantly emphasized upon, there are conditions listed as criterias to qualify for this Kingdom. We know that we have but little more time to spend here on earth (this is the end-time) just as the Bible made us realise that we are the generation witnessing the end of the age.

These are the criterias:

1. BECOME BORN-AGAIN - John 3 vs 3 & 5
The BORN-AGAIN issue is non-negotiable. That is the MAIN reason why Jesus was here to cleanse us in His blood and give life for us to LIVE-AGAIN. All those living is sin and refused to repent are as good as dead because this means total separation from God forever. YOU MUST BE BORN-AGAIN except you never desire to be in the kingdom of God. It is a must the same way a VISA is a must for the cross-country travellers.

2. BE CHILD-LIKE - Matthew 18 vs 3
We all know the characteristics of a child. A Child is innocent, believe all things (not wise in their own eyes) and never have ability to hold grudges for long; they don't hate no matter the race, colour, status or religion EXCEPT influenced NEGATIVELY by corrupt adult/parents.

3. YOUR RIGHTEOUSNESS MUST EXCEED THAT OF THE PHARISEES (Religionist) - Matthew 5 vs 20
You must take on the righteousness of Christ Jesus and put aside your self-righteousness or religion-based righteousness. Jesus Christ always maintain that all righteousness must be fulfilled but in the case of the religious people (Pharisees etc), it doesn't matter, anything goes or God understands. If you are just like one of them, whether you are a leader or the led, forget about heaven if death or rapture caught you unaware.

4. THE POOR IN THE SPIRIT - Matthew 5 vs 3
Who are the poor in the spirit? Those who acknowledge their inadequacy, therefore constantly seeking for the assistance of the Lord and the Holy Spirit. They read and practise what they read in the word of God so that they are enabled to live up to the standard set by God and be qualified for the kingdom of God.They never feel too big to be taught and directed, they are humble. They seek God always and trusting in his might and power to correct their inadequacies and empower them unto perfections.

5. THOSE PERSECUTED FOR RIGHTEOUSNESS SAKE - MATTHEW 5 vs 8
The persecuted are those hated for Jesus' sake. When you become born-again and aspiring to be one of the best for the lord, there must be frictions between you and your old pals, relatives and even your parents. This applies mostly to those who get converted from one religion or the other and become genuinely born-again and really living for christ in deeds.

6. THE PURE IN HEART - MATTHEW 5 vs 8
The pure in the heart are those who don't allow evil thoughts to take root and become establised in their heart lest their persons become corrupt and be manipulated by the devil as tools to achieve his evil purposes. They have no place for evil strategies to be cooked in their hearts and consistently feeding their spirit-man with the word of God. They renew their minds with the blood of the lamb to dislodge every seed of evil thoughts in their hearts. They know and recognised that as long as their eyes and ears are wide open, evil thoughts are inevitable but the safety-catch here is not to allow it to take root in their hearts because whatever gets you gets your attention. They bath themselves in the word of God every time, not daily, weekly or Sunday-to-Sunday thing.

***Now who are those that will not inherit the kindgom of God?
"Now the works of the flesh are manifest,which are these:Adultery (for the Married), fornication (singles), uncleaness, lasciviousness (lust), idolatry, withcraft, hatred, variance, emulations, wrath, strife, seditions, heresies, envyings, murders, drunkness, revellings and such like; of the which I tell you before, as I have also told you in the past,that they which do such things shall not inherit the kingdom of God" Galatians 5 vs 19-21

Note the bold "...they which do such things shall not inherit the kingdom of God" - Final Judgement!

If you have not become born-again, don't wait, repent right now and accept Jesus as your Personal Lord and Saviour to cleanse you from sin.

Shalom


NOTICE: Join us on WHATSAPP (+2348038359284) and on TELEGRAM (+2348022968451) with subject line "JOIN LGM" and you shall be added to our MINISTRIES" groups for daily fresh word from God through seasoned MINISTERS of God to refresh your Soul. God bless as you do.
Please fill the simple form below to join our mailing list, you will never miss any of our monthly messages again!
To be continued next month by His grace...

*** Click here for this Month's Prayer Points ***



* Click here to print this month's message

RAPTURE IS IMMINENT, DEATH IS SURE AND JUDGEMENT IS REAL!!!