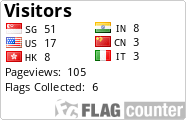 Word for the Year 2018
I sought the Lord and He heard me and delivered me from all my fears, troubles and affilictions in Jesus name, Amen.
Psalm 34 Vs 4
As you confess the above word from the LORD for this year by faith, it shall surely prevail over every contrary situation in your life in Jesus name, Amen.
Daily Prophetic Utterances.
Friday
========
As you round up your activities for the week this Friday, may everything about you be perfected, be profitable and you'll return fully with pleasant testimonies in Jesus name, Amen - Ecclesiaste 7:8
IMPORTANT NOTICE
If the LORD lays it into your heart to sponsor or co-sponsor our proposed 30-minutes weekly Radio Program tagged:
"The Threat of Realities" by
Pastor Olufemi O. A
Please call any of our phone numbers for details. God Bless you.
Buy the books below to add value to your life:

MONTHLY SEMINARS
YOU CAN HOST ANY OF OUR FREE MONTHLY SEMINARS:
Financial Empowerment
and
Singles & Marriage
Click here for more info.
* To read Christian books online or to download your own copy Click Here!
* To download a free complete Bible into your Mobile phone today, visit: http://wap.jolon.org right on your phone now!
* To download a copy of Bible: Click Here! * Download a free Ebook titled: Get Revolution in World Missions.
Where the Need is Greatest
A gift of any size supports the lifesaving mission of the American Red Cross whether it's responding to a disaster, collecting lifesaving blood, teaching skills that can save a life, or assisting military members & their families. Send your help where it is needed most:www.redcross.org


FUND-RAISING APPEAL
TO ALL AND SUNDRY FOR OUR FIRST
WORSHIP CENTER AND YOUTHS EMPOWERMENT CENTER!!!
Please click here for full details
2018 : OUR YEAR OF TOTAL RECOVERY!
IT IS TIMES OF REFRESHING AS YOU READ

July 2018 Message:

Topic: Faith is a connector Part IV

Bible Reference: "God having provided some better things for us; that they without us should not be made perfect" Hebrews 11 vs 40


We give all the glory to God Almighty for sparing our lives till today and this new month. May His holy name be praised and magnified forever in our lives in Jesus name, Amen.

Our message series continues...

It is unfortunate that the faith they taught us about does not often recognize God's own timing, His will and obedience to His words both spoken and written (promises and covenants). The more reason why some even described "Faith" as "NOW" everyone is moving towards "Now, Now" syndrome and mentality! No more patience, endurance, perseverance and long-suffering, these all belonged to the old time religion. Brethren, let us go back to the faith of our Fathers, the devil is deceiving and rampaging many today because all of his antics appealed to our emotions and selfish interests. Read Hebrews 11 vs 1, very well and don't be deceived, the fact that it started with "NOW" does not means that it must be "NOW"! The contents in the book of Hebrews do not and never corresponded to the "NOW" faith of a kind no matter who taught it or impress it upon you. The word of God is the ultimate, no personality is greater than God's word. God Himself exalted His word than His names because He Himself is the word from the beginning - John 1 vs 1. Hebrews 11 vs 1 did not describe "FAITH" as "NOW". All the personality mentioned in that Bible passage endured persevered beyond normal, so where did you see your own "NOW" if you don't want to be deceived?

Read what Hebrews 10 vs 35 - 39 says "Cast not away therefore your confidence, which hath great recompense of reward. For ye have need of patience, that, after ye have done the will of God, ye might receive the promise. For yet a little while, and he that shall come will come, and will not tarry. Now the just shall live by faith: but if any man drawback, my soul shall have no pleasure in him. But we are not of them who draw back unto perdition; but of them that believe to the saving of the soul".

Next time you appear in the Church with your faith and expectations but it seems nothing happens while others are receiving their miracles, healing, blessings and deliverance, true faith will not make you blame yourself for not having faith that is strong enough to receive yours, it will not make you feel bad as if God is partial and loved some people that the others even though we are all children of God. True faith will not make you jealous and hated those having testimonies to share with the brethren but will make you rejoice with them and be rest assured in high expectations that it will soon be your own time and when it is your time, it is your turn! It will energize you to continue with God and accepting Him as God but sees Him as your Father as well. "For God so loved the WORLD..." John 3 vs 16, He loves EVERYONE and CHRIST died for ALL equally, it only depends on each individual's response to His love.

True faith will make you realize that there is no other way apart from God, it is either God or nothing else! True faith will make you understand that individually, we all have our own time for each purpose to fulfill in God's agenda on earth for our lives. True faith will make you fulfill all

righteousness and patiently wait for God to fulfill His own part of the bargain in His own time and terms, true faith will make you see and know that God's time and perfect will (not permissive will) is the best and you should wait for it no matter what the pressure is and not in complaints, grudges or developed hatred towards those having their prayers answered at the time of your waiting.

It is true faith that will prevent you from committing suicide when all hopes were gone. One day, I got angry with myself and especially with God for not over-ridden my not-strong-enough faith in spite of all His mighty power, grace and mercy to do ALL THINGS and answer my prayers but you know what He did? He led me to His word "Be ye strong therefore, and let not your hands be weak: for your work shall be rewarded" 2 Chronicles 15 vs 7 - you know what that means? It means that it wasn't my faith that is not strong enough after all but I have yet many things to do or fulfill before it will be my turn! When I realized this, I was ashamed of myself before God for not asking Him of "What next?" first instead of getting angry at Him and accusing Him of not answering my prayers.

Most of us have not even done half of what is expected of us before our prayers can be answered, some of us are not yet matured enough to handle what we are asking Him to give us while a good number of us has not yet fulfilled our own part of the bargain before getting angry and threaten not to serve Him anymore, who will be at loss if you stopped serving Him, can that reduce or remove Him as God? No, definitely not! May the Holy Spirit give us proper understanding and interpretations of His word in the mighty name of Jesus, Amen.

Surrender your life to Jesus today of you haven't done so to have your sins forgiven and cleansed, confess and forsake them, ask Jesus to save you, accept Him as your personal Lord and Savior, ask Him to write your name in the book of life and determine never to go back to sin again. Ask for His Holy Ghost power to empower you to hate and overcome sin of any kind. Live a life of holiness, righteousness and let godly fear direct your life, actions, thoughts and ways. Become born again and live for God. Pray without ceasing and rejoice in any circumstances. The Lord of Host is with you. May God strengthen you and uphold you till the end in Jesus name, Amen.

Till next month when we shall conclude this series of "FAITH IS A CONNECTOR", we shall meet again if the Lord tarries...

Shalom


NOTICE: Join us on WHATSAPP (+2348038359284) and on TELEGRAM (+2348022968451) with subject line "JOIN LGM" and you shall be added to our MINISTRIES" groups for daily fresh word from God through seasoned MINISTERS of God to refresh your Soul. God bless as you do.
Please fill the simple form below to join our mailing list, you will never miss any of our monthly messages again!
To be continued next month by His grace...

*** Click here for this Month's Prayer Points ***



* Click here to print this month's message

RAPTURE IS IMMINENT, DEATH IS SURE AND JUDGEMENT IS REAL!!!