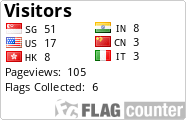 Word for the Year 2017
With You oh Lord, there is Fountain of life, and in Your Light we shall see light in Jesus name, Amen.
Psalm 36 Vs 9
As you confess the above word from the LORD for this year by faith, it shall surely prevail over every contrary situation in your life in Jesus name, Amen.
Daily Prophetic Utterances.
Saturday
========
Saturday is the last day of the week, the rest of the LORD shall be your portion, your rewards in labour shall not be plundered by spiritual robbers in Jesus name, Amen - Ecclesiaste 5:18-20
IMPORTANT NOTICE
If the LORD lays it into your heart to sponsor or co-sponsor our proposed 30-minutes weekly Radio Program tagged:
"The Threat of Realities" by
Pastor Olufemi O. A
Please call any of our phone numbers for details. God Bless you.
Buy the books below to add value to your life:

MONTHLY SEMINARS
YOU CAN HOST ANY OF OUR FREE MONTHLY SEMINARS:
Financial Empowerment
and
Singles & Marriage
Click here for more info.
* To read Christian books online or to download your own copy Click Here!
* To download a free complete Bible into your Mobile phone today, visit: http://wap.jolon.org right on your phone now!
* To download a copy of Bible: Click Here! * Download a free Ebook titled: Get Revolution in World Missions.
Where the Need is Greatest
A gift of any size supports the lifesaving mission of the American Red Cross whether it's responding to a disaster, collecting lifesaving blood, teaching skills that can save a life, or assisting military members & their families. Send your help where it is needed most:www.redcross.org


FUND-RAISING APPEAL

TO ALL AND SUNDRY FOR OUR FIRST

WORSHIP CENTER AND YOUTHS EMPOWERMENT CENTER!!!

Please click here for full details

2017 : OUR YEAR OF TOTAL RECOVERY!

IT IS TIMES OF REFRESHING AS YOU READ

July 2017 Message:

Topic: What stuff are you made of? Part 2

Bible Reference: "And be not drunk with wine, wherein there is excess, but be filled with the Spirit" Ephesians 5 vs 18.


We give ALL the glory to God Almighty Jehovah El-Shaddai, the ONE who lives forever and has supreme control over ALL, who has seen us through many unpleasant situations and kept us alive, hale, healthy, hearty and strong in spite of all we had encountered in the time past. May His Holy name be glorified forever in our lives in Jesus name, Amen.

We shall continue our message series titled "What stuff are you made of?". In the last month message, we were made to understand that there are two kinds of Christians in the Christendom - the Spirit-filled and the Wine-filled. And there were parallels between the two.

Part 2

DANGER - "...wherein there is excess"

The surprises that will be springing up on the judgement day of the LORD would not be much on the part of the guilty as it will be on the part of those who had thought that their so-called "Pastor", "Reverend", "Prophet", "Apostle", "Bishop", "Brethren" or whatever title they carried who would not make heaven because of secret sins they committed and refused to repent because their followers did not know about it neither did they suspect them a bit.

In life, I have come to discover that there are some sins you had better not committed at all rather than trying to cover it so that people around would not know or find out. Some sins are like "Bosom fire", how on earth do you think it will not burn you? The only sure way of such is not to go near it at all "...flee every appearance of evil" because of the truth revealed in the word of God "...wherein there is excess" which ultimately means these sins have unbreakable addictive power and effects, the most unfortunate aspect of it is that they are subtle in manner, easily besetting in nature. By the time you get entangled in it, you will discover late that you are in a big trouble. The more reason why God forewarned us to flee every appearance of evil.
1 Thessalonians 5 vs 22.

Once you get hooked, it will take the grace and mercy of the LORD to deliver you from such. Brethren, it is better not to try and give it a "shot" as they used to say because you will get entangled. Anything that happens beyond once will grow to become habit and destructive habits are hard to break not even by human efforts or rehabilitative measures. If you are entangled in fornication as a youth or single, you need Jesus to deliver you, if you are married but got hooked to adultery for whatever reason, you need to frantically seek help from the Deliverer. Some are into porn and masturbation (married or not).

There are other sins like "lies, backbiting and other sexual perversion sin coined out of civilization like lesbianism, gay and the likes but all these and many more are deadly habits highly addictive and destructive but subtle in manner. Eighty percent of those who found themselves in these mess were either cajoled, deceptive, adventurous or inadvertently introduced into it with the deceptive phrase like "If you don't like it, you can quit, nobody will force you" but the devil knows that "just once" is enough to hook you for life! At the first trial, you may feel guilty and troubled but the addictive effects linger on that you still want to go along with it no matter the feelings afterwards, then you are in chain!

Some got hooked in the name of having ungodly affection or friendship with opposite sex and they fell into it head-long even though not intentionally. Some got hooked through bad company or friends who are neck-deep in such evil habits. These sins/habits were mentioned because it is the commonest way to get humans hooked in the path of destruction. If you are free of any of these, please in the name of God, don't try to give it a trial so that you don't get hooked because the ONE who created you knows how HE wired us as human being, our resistance abilities and limitations. If He forewarned us pertaining certain things then we should know that HE knows the reason why HE did so. You know that He warned us in His word that he that thinks stands should beware lest he falls. If you are already entangled in it, the first step out of the pit is to stop digging, meaning that the fist step out of your mess is to quit being cooperative with the devil, how? The book of 1 John 3 vs 8 says "...whosoever commits sin is of (belongs to) the devil...", you need to disown the devil by changing ownership and embrace Jesus as your Lord (Owner) because it is for this purpose HE manifested to destroy the chains, addiction, harmful habits and lifestyles that bound you and made you become helpless like a zombie without a will to break loose on your own (because you belong to the task-master - the devil).

Jesus will set you free - John 8 vs 36, I am a living witness to this and it is true indeed. If you have given your life to Jesus but you are still in this mess, then, you have not yet been set free or being delivered, please there are other thing to consider, don't think it is a deception or gainsaying, He truly do sets free!



1. HOW DID YOU GET CONNECTED?


What is the basis of your conversion? Is it based on the premises that you need deliverance, healing, godly partner, wealth or breakthrough? I can tell you these are wrong reasons to become born again or accept Jesus, it must be based on SALVATION from sins and becoming a NEW CREATURE (2 Corinthians 5 vs 17) and nothing more to it. All other things are secondary or additional, salvation is the primary reason why Jesus came and the only way to make heaven. Of what use is all your achievements when at the end you will lose heaven? Matthew 15 vs 26.

We shall continue the third part next month if the LORD tarries, till then keep bubbling in HIS grace and love.

Shalom





NOTICE:

Join us on

WHATSAPP (+2348038359284)

and on

TELEGRAM (+2348022968451)

with subject line "JOIN LGM" and you shall be added to our MINISTRIES" groups for daily fresh word from God through seasoned MINISTERS of God to refresh your Soul. God bless as you do.
Please fill the simple form below to join our mailing list, you will never miss any of our monthly messages again!

To be continued next month by His grace...

*** Click here for this Month's Prayer Points ***



* Click here to print this month's message

RAPTURE IS IMMINENT, DEATH IS SURE AND JUDGEMENT IS REAL!!!