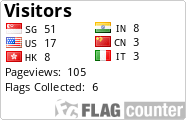 Word for the Year 2017
With You oh Lord, there is Fountain of life, and in Your Light we shall see light in Jesus name, Amen.
Psalm 36 Vs 9
As you confess the above word from the LORD for this year by faith, it shall surely prevail over every contrary situation in your life in Jesus name, Amen.
Daily Prophetic Utterances.
Sunday
========
Sunday is the first day of the week. Worship the Lord and start your week with God highly exalted in your life and He shall draw blessings your way all throughout this week in Jesus name, Amen - Isaiah 48:3
IMPORTANT NOTICE
If the LORD lays it into your heart to sponsor or co-sponsor our proposed 30-minutes weekly Radio Program tagged:
"The Threat of Realities" by
Pastor Olufemi O. A
Please call any of our phone numbers for details. God Bless you.
Buy the books below to add value to your life:

MONTHLY SEMINARS
YOU CAN HOST ANY OF OUR FREE MONTHLY SEMINARS:
Financial Empowerment
and
Singles & Marriage
Click here for more info.
* To read Christian books online or to download your own copy Click Here!
* To download a free complete Bible into your Mobile phone today, visit: http://wap.jolon.org right on your phone now!
* To download a copy of Bible: Click Here! * Download a free Ebook titled: Get Revolution in World Missions.
Where the Need is Greatest
A gift of any size supports the lifesaving mission of the American Red Cross whether it's responding to a disaster, collecting lifesaving blood, teaching skills that can save a life, or assisting military members & their families. Send your help where it is needed most:www.redcross.org


FUND-RAISING APPEAL
TO ALL AND SUNDRY FOR OUR FIRST
WORSHIP CENTER AND YOUTHS EMPOWERMENT CENTER!!!
Please click here for full details
2017 : OUR YEAR OF TOTAL RECOVERY!
IT IS TIMES OF REFRESHING AS YOU READ

October 2017 Message:

Topic: Walking in the Perfect Will of God

Bible Reference: And be not conformed to this world; but be transformed by the renewing
of your mind, that you may prove what is good, and acceptable and perfect will of God. Romans 12 vs 2


We give glory to the Almighty Jehovah God, the giver of good things, the protector and the comforter who saved our souls from the pit of hell and perdition and has brought us into yet another new month. This could not have been according to the plans of the enemies but God is God over the heavens, the earth and the fulness thereof. When He's moving, nothing can hinder or stop Him! When He says a thing, it must come to pass no matter how long it takes especially all of His promises and covenants with us. Halleluyah to His holy name.

His word for us this month is "Walking in the perfect will of God". What does it means to be walking in the perfect will of God? It means that it is not enough to be saved, in fact, that is the beginning of it all but then, we need to maintain our salvation till the very end. Remember Jesus said that whosoever laid his/her hands upon the plough and yet look back does not fit for the kingdom of God. He also said that only those who endured it till the end shall be saved. Matthew 24 vs 13.

Judas Iscariot could not endure till the end, Demas could not endure till the end, Anaias and Sapphira could not endure till the end. All these people are cited as examples from the new testament because that was the revelation for man's hope of making heaven - Salvation through the Lord Jesus! They all missed it, though painful because God does not want the sinners to perish but we of this present generation must learn from their errors and downfalls, not only to learn but applying what we learn to our own lives too so that we don't become the victims of "ever learning but never come to the point of knowledge and wisdom"

Many of us can teach or preach the word of God like Jesus, the Saviour Himself but we failed to apply what we learn and knew to better our lives. Invariably, it means we only learn to teach others and not to be wise in applying it to our lives so that we don't end up being like any of those cited as the examples for us earlier.

The book of Galatians chapter 5 verse 15 to 21 fully elaborated all the sins that can hinder any saved-christian from making heaven and in the verse 21, it finally ended it with a striking truth that many of us find hard to come to term with, "...as I have also told you in time past, that they which do such things shall not inherit the Kingdom of God"

Jesus was never like us, He's different and the Bible testifies to it, also enjoined us to look unto Him as the Author (the starter) and the Finisher (completeness) of our faith, nothing should differ. The book of Acts chapter 1 verse 1 reported this about Jesus "...of all that Jesus began to do and teach". How many of us do what we preach or teach today? How may of us would not be condemned by the very word with which we taught or preached to the people?

To make heaven in spite of our salvation, we must wake up and walk in the PERFECT WILL of God and not practicing Christianity on the facial value. It is high time we start walking in the truth consciously, we should stop abusing the word "Grace", it is not a license to be courting sin. Yes, we should ask for the grace but making conscious efforts to live right. As contrarily believed, GRACE IS NOT FOR THE INDULGENT, RATHER IT IS FOR THOSE WHO ARE READY TO DO WHAT IT TAKES TO MAKE HEAVEN AT LAST.

This is a serious journey that needs our hundred percent concentration because all other things are secondary, "Seek ye first the kingdom of God and its righteousness, and all other things shall be added to us" Matthew 6 vs 33, if you take note of the word of the Lord here, He said "...other things (secondary matters) shall be added to us", He didn't say "...we should add them to our lives", meaning that man's life does not consist in the abundance of whatever he has or achieved. God wants us to fully concentrate on how to make this journey home (heaven), other things to be added are not our job to do, He alone knows how to do that because it His responsibility, HE as the great provider has promised to take it up and indeed, He's a faithful God for He has been doing it, still doing it and will continue to do it.

To scale through, you need to allow the word of God break you down, let it correct you wherever you need correction, allow God to have His way in your life, stop struggling with Him, stop altering or tampering with all what you shouldn't just because you just must do this or achieve that, it is all vanity! Your soul is the most important before Him, He alone can take you to where you never dream of being in live. You should be aware that with God, there is no partiality. He's a just God who gives to everyone as deserved. A word is enough for the wise. Work out your salvation with fear and trembling! Phil.2 vs 12.

Peradventure you are reading this but yet to repent of your sins and given your life to Jesus for the remission of your sins, please do so now as the next minute may be too late. We are at the end-time and anything can happen, it may be death - "It has been appointed to a man to die and after this judgement" Hebrews 9 vs 27. It may be rapture (transporting those who are saved and endured till the end to heaven by Jesus Himself, John 14 vs 1 - 3).

No one can escape any of these two events. Now come to think of it, what if it is true? Well, you EVERYTHING to lose! What if it is not true? Well, you have NOTHING to lose because you lived a well-spent life on earth, the sinners are
given to series of afflictions and sorrows. Give your sins to Jesus and become sinless, give your life to Him, reap eternal life and be saved (be justified by His blood that was shed on the cross). Hebrews 9 vs 28.

Till next month,


NOTICE: Join us on WHATSAPP (+2348038359284) and on TELEGRAM (+2348022968451) with subject line "JOIN LGM" and you shall be added to our MINISTRIES" groups for daily fresh word from God through seasoned MINISTERS of God to refresh your Soul. God bless as you do.
Please fill the simple form below to join our mailing list, you will never miss any of our monthly messages again!
To be continued next month by His grace...

*** Click here for this Month's Prayer Points ***



* Click here to print this month's message

RAPTURE IS IMMINENT, DEATH IS SURE AND JUDGEMENT IS REAL!!!