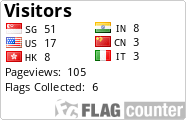 Word for the Year 2017
With You oh Lord, there is Fountain of life, and in Your Light we shall see light in Jesus name, Amen.
Psalm 36 Vs 9
As you confess the above word from the LORD for this year by faith, it shall surely prevail over every contrary situation in your life in Jesus name, Amen.
Daily Prophetic Utterances.
Saturday
========
Saturday is the last day of the week, the rest of the LORD shall be your portion, your rewards in labour shall not be plundered by spiritual robbers in Jesus name, Amen - Ecclesiaste 5:18-20
IMPORTANT NOTICE
If the LORD lays it into your heart to sponsor or co-sponsor our proposed 30-minutes weekly Radio Program tagged:
"The Threat of Realities" by
Pastor Olufemi O. A
Please call any of our phone numbers for details. God Bless you.
Buy the books below to add value to your life:

MONTHLY SEMINARS
YOU CAN HOST ANY OF OUR FREE MONTHLY SEMINARS:
Financial Empowerment
and
Singles & Marriage
Click here for more info.
* To read Christian books online or to download your own copy Click Here!
* To download a free complete Bible into your Mobile phone today, visit: http://wap.jolon.org right on your phone now!
* To download a copy of Bible: Click Here! * Download a free Ebook titled: Get Revolution in World Missions.
Where the Need is Greatest
A gift of any size supports the lifesaving mission of the American Red Cross whether it's responding to a disaster, collecting lifesaving blood, teaching skills that can save a life, or assisting military members & their families. Send your help where it is needed most:www.redcross.org


FUND-RAISING APPEAL
TO ALL AND SUNDRY FOR OUR FIRST
WORSHIP CENTER AND YOUTHS EMPOWERMENT CENTER!!!
Please click here for full details
2017 : OUR YEAR OF TOTAL RECOVERY!
IT IS TIMES OF REFRESHING AS YOU READ

May 2017 Message:

Topic: Are You Not Making Progress?

Bible Reference: Bless the LORD, O my Soul and forget not all His benefits, who forgives all your iniquities; who healed all your diseases; who redeemed your life from destruction, who crowned you with lovingkindness and tender mercies, who satisfy your mouth with good things so that your youth (strength) is renewed like the eagle's. Psalm 103 Vs 1 - 5


Glory be to Almighty God, the Creator of heavens and the earth, who has counted us worthy to be among the living souls and not only that, you are not tied down on the hospital bed and even at that, the reason to thank Him is that you are alive and there is hope that you will leave that awkward position soonest that you imagine in the name of Jesus - LORD of all flesh, amen.

This goes to say in every situation you are in now, as long as you are alive, the devil has been defeated and you owed God gratitude because there is hope for you "For to him that is joined to all the living there is hope, for a living dog is better that a dead lion" Ecclesiastes 9 vs 4. "For there is hope for a tree if it be cut down, that it will sprout again and that the tender branch thereof will not cease. Though the root thereof wax old in the earth, and the stock thereof die in the ground. Yet through the scent of water, it will bud and bring forth boughs like a plant" Job 14 vs 7 - 9.

The topic of this message as sent to you by God is a question, if answered sincerely would not leave you without a choice than to be grateful in spite of whatever you may be going through right now. Sincerely, are you not making any progress at all? Are you still where you were yesterday? The point here is that the progress you were making does not commensurate with the efforts you are putting in and the progress you are expecting to take place. But the truth is that you are making progress it may not be according to your expectations which makes you embittered at God and you are thinking of quitting your belief of His existence as doubts filled your heart.

These seven (7) things you are to acknowledge about God:

1. His ways are not your ways - Isaiah 55 vs 9.

2. His plans are different to yours - Isaiah 55 vs 8, Proverbs 16 vs 9.

3. His plan is the best for you - Jeremiah 29 vs 11, Ecclesiastes 3 vs 11.

4. He is faithful concerning His promises - Hebrews 10 vs 23

5. He loves you more than you know - Romans 8 vs 32, I John 4 vs 9 - 12

6. He is unquestionable in over His doings - Ecclesiastes 3 vs 14; 8 vs 4

7. Be grateful unto Him - Habakkuk 3 vs 17 - 19

Let these seven points guide you all the days of your life and you shall not be an ingrate to God. Let us consider the anchor text for this month's message.

In verse 1 and 2, the author knows (he did not think) that God has been so good to him in spite of whatever he may be passing through and he tried to remind himself to disregard the sorrow in his heart and focus on God's goodness, faithfulness and the blessings he had received and enjoyed from God NOT what God has not done for him.

Verse 3 talks about God's mercies of forgiving us of our sins and also being our healer, how many times have you been healed of all the diseases and sicknesses that claimed the lives of others and here you are on your feet.

Verse 4 talks about God being our Redeemer, Deliverer and Protector from all the destruction and attacks of the evil ones and also crowned us with His lovingkindness and tender mercies even though we did nothing to deserve them.

Verse 5 talks about God's providence, willingness to make us to be fully satisfied with all good things so that our lives would be full of vibrancy, agility, longevity and strengths. Out of all these, you might have experienced one, two or more, which one can you do for yourself? Whether you praise Him now or later after he has granted all your heart desires. He is still the same God. Why don't you praise Him now so that He can be happy with you? Psalm 30 vs 5 says "For His anger endures but a moment; in His favour is life, weeping may endure for a night but joy comes in the morning". That song writer says "Count your blessings and name them one by one, and it will surprise you what the LORD has done". Do not be an ingrate! Stop complaining and start praising Him now.

As from today, focus on God not on your problems no matter how pressing or threatening it may be, focus on what God has done for you and not on what He is yet to do. If it is in His divine plan for you, nothing can stop Him doing it for you in His own time. Giving you the best you can have is His priority. Praise Him the more the storm rages, acknowledge Him in your ways always, enthrone Him over every situation threatening your live and maintain your confession like that of the three Hebrews - Shandrach, Meshrach and Abednego - Daniel 3 vs 16 - 30 and see Him move in your situation when the time is right. May you not be put to shame serving God in Jesus name, amen. Jesus is the way the life has been configured to work for anyone.

If you have not become born-again according to John 3 vs 3 and 5, for heavenly kingdom sake, give your life to Jesus today, starting by confessing your sins to obtain mercy for forgiveness and forsake these sins to obtain genuine salvation and book a place in God's kingdom. You are blessed as you do so, congratulations. Find a place on this site for prayer of salvation or call me to inform me of your decision. It is well.

Till next month if the LORD tarries, I will read your testimonies and you shall read mine too in Jesus name, Amen.

Shalom.


NOTICE: Join us on WHATSAPP (+2348038359284) and on TELEGRAM (+2348022968451) with subject line "JOIN LGM" and you shall be added to our MINISTRIES" groups for daily fresh word from God through seasoned MINISTERS of God to refresh your Soul. God bless as you do.
Please fill the simple form below to join our mailing list, you will never miss any of our monthly messages again!
To be continued next month by His grace...

*** Click here for this Month's Prayer Points ***



* Click here to print this month's message

RAPTURE IS IMMINENT, DEATH IS SURE AND JUDGEMENT IS REAL!!!