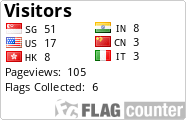 Word for the Year 2018
I sought the Lord and He heard me and delivered me from all my fears, troubles and affilictions in Jesus name, Amen.
Psalm 34 Vs 4
As you confess the above word from the LORD for this year by faith, it shall surely prevail over every contrary situation in your life in Jesus name, Amen.
Daily Prophetic Utterances.
Thursday
========
This Thursday, you shall not be tired, may your strength be renewed. You shall mount up and soar like Eagles, you shall walk and not be fainted, run and not be exhausted. God will continue to be your strength in Jesus name, Amen - Isaiah 40:29-31
IMPORTANT NOTICE
If the LORD lays it into your heart to sponsor or co-sponsor our proposed 30-minutes weekly Radio Program tagged:
"The Threat of Realities" by
Pastor Olufemi O. A
Please call any of our phone numbers for details. God Bless you.
Buy the books below to add value to your life:

MONTHLY SEMINARS
YOU CAN HOST ANY OF OUR FREE MONTHLY SEMINARS:
Financial Empowerment
and
Singles & Marriage
Click here for more info.
* To read Christian books online or to download your own copy Click Here!
* To download a free complete Bible into your Mobile phone today, visit: http://wap.jolon.org right on your phone now!
* To download a copy of Bible: Click Here! * Download a free Ebook titled: Get Revolution in World Missions.
Where the Need is Greatest
A gift of any size supports the lifesaving mission of the American Red Cross whether it's responding to a disaster, collecting lifesaving blood, teaching skills that can save a life, or assisting military members & their families. Send your help where it is needed most:www.redcross.org


FUND-RAISING APPEAL
TO ALL AND SUNDRY FOR OUR FIRST
WORSHIP CENTER AND YOUTHS EMPOWERMENT CENTER!!!
Please click here for full details
2018 : OUR YEAR OF TOTAL RECOVERY!
IT IS TIMES OF REFRESHING AS YOU READ

March 2018 Message:

Topic: Aroma of Christ

Bible Reference: For we are unto God a sweet savor of Christ, in them that are saved and in them that perish - 2 Corinthians 2 vs 15


We give all the glory to our Father in heaven for yet another new month in the year. May His Holy name be praised for ever in Jesus name, amen

The word of the LORD for you and I this month is talking about God's expectation of us as His children and as the ones prepared for His established glorious kingdom where everything that works abomination would not be able to enter.

We can deduce from our anchor scriptural reference that whenever God looks down from heaven, He perceives a smell but the smell depends on the particular individual He centers His attention on. You as a person, whenever God direct His focus on you, what smell does He perceive? Is it an horrible odor or a sweet smelling savor?

How can someone's life ooze out horrible smelling odor? When such individual's life is totally embedded in sin of any kind. How can someone's life ooze out a sweet smelling savor to God? When such individual's life is totally embedded in righteousness, holiness and fear of God.

The word of God says we are supposed to be a sweet savor of Christ unto God; which ultimately means that when we respond adequately to the total transformation in Christ Jesus by being genuinely born again as it is written in word of God and experienced by the people of old (the Apostles and the rest of the disciples of Jesus Christ). Read what Apostle Paul says about what should be the experience of whoever become genuinely saved in the 2 Corinthians 5 vs 17 "Therefore if any man be in Christ, he is a new creature; old things are passed away; behold, all things are become new".

Interestingly, that was the exact experience he and others in the Bible who became born again had which actually made a lot of difference between their old and new self to the glory of God. This is the main motive behind the death and resurrection of Christ Jesus to rescue man from sin and its consequences. Although, He says to "come as you are" but when you get to Him, He will definitely transform your life because that was the main reason He's inviting you to come. Your life needs to be changed positively and progressively.

When we respond in the same measure of obedience to the "greater love" with which He died for our sins on the old rugged cross, we will have a real experience of salvation as it is supposed to be. What happens today? More churches, more criminals, more ministers, more hell candidates, heresies here and there, motivational speeches on the Altars while the message of the cross, sins and repentance were sidelined and taken over by the message of prosperity and self-help (improvement). Transformation is no more people's experiences but reformations.

Christianity nowadays is gradually drifting from having a fruitful relationship with God to the religion of activities, civilization and corruption; Holy Spirit's work as the owner of the present dispensation is scantly felt in the churches these days. The lives of most Christians are smelling horribly to God because sins have now become a "norm" to them, which subtly introduced into the churches by the "hireling" that pervades and pollutes every Altar where truth is supposed to reign.

Brethren, you as an individual, do you realize that salvation must be a personal decision and exciting experience with God and not with the crowd? Is your life a sweet smelling savor of Christ or an horrible odor of sin and satan to God anytime He centers His attention on you? That is the major reason why many prayers were never answered. Can you live in assurance that His presence is still with you? Can you honestly confess that you are still experiencing the "fulness of joy" as obtainable in His presence? Psalm 16 vs 11.

If an animal is killed and divided into two portions, one part is kept somewhere without preservatives and the other part is instantly prepared and garnished with all manner of cooking delightments and ingredients. Given a few days more, one will definitely give off an horrible odor while the other will have a sweet smelling savor but from the same animal as their source, so what happened? The result of individual's smell is predicated by the treatments and efforts given each.

Back to your court, how are you living your life in your closet where no man is watching you? You are really who you are when you are alone. Are you the same person that people around think you are when you are in the four walls of the church as against who you are out there? Can God, who sees in the closet vouch for you as He did for Job, Abraham, Joseph, Daniel, Easter and other faithfuls in the Bible? Do you realize that God of the Bible and of the people of old is still very much in existence and communicative? He is real but you are the one who remained vague to Him by the virtue of your perception of Him and your response to His love.

A life full of sin stinks to God and their prayers are abomination to Him. You had better repent today so that your life can be a sweet smelling savor of Christ to God Almighty. One wise person says that our meeting with God will result to joy and peace when our souls are delivered from sin. This person is reflecting from the salvation experience he had when he met with Christ Jesus.

God is no respecter of persons. 1 John 3 vs 8 made us realize that "WHOSOEVER" commits (is living in) sin is of the devil, meaning that such is devil's property. If you are reading this and you are yet to be GENUINELY BORN AGAIN, better sort it out with Jesus NOW because NEXT moment may be too late for you. Find a sinner's prayer somewhere on this webpage and do what is right NOW! May God have mercy on you in Jesus name.

If the LORD tarries, we shall meet again.

Shalom


NOTICE: Join us on WHATSAPP (+2348038359284) and on TELEGRAM (+2348022968451) with subject line "JOIN LGM" and you shall be added to our MINISTRIES" groups for daily fresh word from God through seasoned MINISTERS of God to refresh your Soul. God bless as you do.
Please fill the simple form below to join our mailing list, you will never miss any of our monthly messages again!
To be continued next month by His grace...

*** Click here for this Month's Prayer Points ***



* Click here to print this month's message

RAPTURE IS IMMINENT, DEATH IS SURE AND JUDGEMENT IS REAL!!!