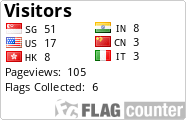 Word for the Year 2018
I sought the Lord and He heard me and delivered me from all my fears, troubles and affilictions in Jesus name, Amen.
Psalm 34 Vs 4
As you confess the above word from the LORD for this year by faith, it shall surely prevail over every contrary situation in your life in Jesus name, Amen.
Daily Prophetic Utterances.
Sunday
========
Sunday is the first day of the week. Worship the Lord and start your week with God highly exalted in your life and He shall draw blessings your way all throughout this week in Jesus name, Amen - Isaiah 48:3
IMPORTANT NOTICE
If the LORD lays it into your heart to sponsor or co-sponsor our proposed 30-minutes weekly Radio Program tagged:
"The Threat of Realities" by
Pastor Olufemi O. A
Please call any of our phone numbers for details. God Bless you.
Buy the books below to add value to your life:

MONTHLY SEMINARS
YOU CAN HOST ANY OF OUR FREE MONTHLY SEMINARS:
Financial Empowerment
and
Singles & Marriage
Click here for more info.
* To read Christian books online or to download your own copy Click Here!
* To download a free complete Bible into your Mobile phone today, visit: http://wap.jolon.org right on your phone now!
* To download a copy of Bible: Click Here! * Download a free Ebook titled: Get Revolution in World Missions.
Where the Need is Greatest
A gift of any size supports the lifesaving mission of the American Red Cross whether it's responding to a disaster, collecting lifesaving blood, teaching skills that can save a life, or assisting military members & their families. Send your help where it is needed most:www.redcross.org


FUND-RAISING APPEAL
TO ALL AND SUNDRY FOR OUR FIRST
WORSHIP CENTER AND YOUTHS EMPOWERMENT CENTER!!!
Please click here for full details
2018 : OUR YEAR OF TOTAL RECOVERY!
IT IS TIMES OF REFRESHING AS YOU READ

September 2018 Message:

Topic: Entering His glory

Bible Reference: "O thou afflicted, tossed with tempest and not comforted, behold, I will lay thy stones with fair colors, and lay thy foundation with sapphires; And I will make thy windows of agates and thy gates of carbuncles and all thy borders of pleasant stones" Isaiah 54 vs 11, 12


We return all glory to the Almighty God Jehovah Elshaddai for the gift of life. He has preserved our lives till date to witness another month. And He's our hope for the rest of the journey. As long as there is life, there is hope of becoming whatever we desire to be according to His will, we can achieve whatever we desire to achieve to the glory of His holy name. Halleluyah!!!

Are you depressed, wearied, tired, dejected, abused, frustrated, refused, forsaken, afflicted, troubled or discomforted?

The list is endless of what people are going through in life but one truth is that in all these, God loves us. He would not be delighted that anyone no matter who you are - your name, status, gender, race, nation, tribe or religion ever suffer in the hand of the devil - the troubler of mankind. In all the challenges of life, we tend to ignore God who created us and run after man-made useless sources that can never give solution to our problems, troubles and afflictions.

He said in His word that the sorrow of those running after another gods shall multiply (Psalm 16 vs 4), why? Because satan is the source of every other power different to the power of the Holy Spirit. Do not expect satan to fight against himself, it will never happen, rather he is ready to replace the lesser problem with bigger one for you and that is when he will pretend and claim that he's capable of taking away your problems. If he gives you a cap, his target is your head. Do not sleep with both your eyes closed because very soon, he will come for your head!

God feels your pain and He's never a wicked God who delights in any of his children's sufferings. The Bible says that we do not have an high priest who is not touched by the feelings of our infirmities (Hebrews 4 vs 15). However, in order to enjoy God's goodness in immeasurable measures, there are principles we must observe and abide with. In God's kingdom, there are principles that must be adhered to because they change not. This Kingdom and its principles must be replicated on earth and in the lives of those who want to enjoy heaven on earth.

Here are some of these important principles and rest shall naturally follow:

1. Are you really born again? John 3 vs 3 - 6
Do not marvel that this issue comes up again! Yes, I know that you don't really buy into this idea that sounds funny but to be sincere with you, this is the first step and without it, nothing else will work. It is upon this threshold that other principles do operate, thrive and produce results. 2 Corinthians 5 vs 17 explains further on what being born again is and its resultant effects on every facet of man's life: "Therefore, if any man be in Christ, he is a new creature; old things are passed away; behold all things are become new"

2. Abhor SIN with all your strength: 1 John 3 vs 8
"He that commits sin is of the devil, for the devil sinned from the beginning..." This applies to EVERYONE including the highest religion leaders, meaning that no matter who you are or your status, if you are living in sin whether openly or secretly, you belonged to the devil by the verdict of God's word. Have you noticed that the property resides with its owner wherever he lives? So is everyone living in and enjoying committing sins, such is devil's property, he/she belongs to the devil and will spend eternity in the devils eternal abode - HELL!

3. Sowing and reaping: Genesis 8 vs 22
Know this and keep it at the back of your mind always that whatsoever a man sow, he shall reap. Each harvest is determined by the type and quality of the seed you sow. Sow obedience, reap the rewards of obedients. Sow disobedience and reap the punishments that will follow. Give and it shall be given. Whatever you will enjoy other people to do to you, do likewise to them. Sow in the spirit, reap eternal life. Sow in the flesh and reap destruction. Sow love to others and you shall experience the sweetness of love (not lust). "Therefore all things whatsoever ye would that men should do to you, do ye even so to them: for this is the law and the prophets." Matthew 7 vs 12 - this is from Jesus Himself.

4. Study the word daily: 2 Tim. 2 vs 15, Psalm 119 vs 105.
When you read the word of God everyday and every time you have the opportunity, there are lots of benefits you stand to derive - Psalm 119 vs 9.

i. You are feeding your spirit-man to be stronger and robust in order to withstand and overcome every spiritual arrows and attacks of the enemies both in the dreams, spiritual realms and in the physical.

ii. You will get word for whatever you are passing through and consequently experience peace of mind instead of running helter skelter to the herbalists, fake prophets and alfas for any kind of rituals.

iii. You will always receive direction, answer and solution to the question or challenges you are facing.

iv. You will constantly be reminded of God's promises and covenants he has made with His children including you!

v. You will receive personal word from the Lord so as to reveal your present status before Him.

5. Pursue Peace and Holiness: Hebrews 12 vs 14
"Follow peace with all men, and holiness, without which no man shall see the Lord".
The Bible says that without these two, NO ONE will see the Lord. Our God is holy and whoever desire to walk with Him MUST be holy. He is also the Prince of Peace, He not only enjoin us to be peaceful with others but also to pursue peace with everyone who offended us.

TO CONTINUE NEXT MONTH...

Till next month when we shall hear from the Lord again if HE tarries, PLEASE RUN FAR AWAY FROM SIN WHICH CAN MESS UP YOUR EXISTENCE ON EARTH AND RUBBISH YOUR CHANCE OF MAKING HEAVEN. Bless you.

Thanks for reading.

Shalom


NOTICE: Join us on WHATSAPP (+2348038359284) and on TELEGRAM (+2348022968451) with subject line "JOIN LGM" and you shall be added to our MINISTRIES" groups for daily fresh word from God through seasoned MINISTERS of God to refresh your Soul. God bless as you do.
Please fill the simple form below to join our mailing list, you will never miss any of our monthly messages again!
To be continued next month by His grace...

*** Click here for this Month's Prayer Points ***



* Click here to print this month's message

RAPTURE IS IMMINENT, DEATH IS SURE AND JUDGEMENT IS REAL!!!