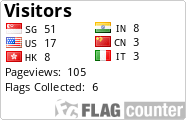 Word for the Year 2017
With You oh Lord, there is Fountain of life, and in Your Light we shall see light in Jesus name, Amen.
Psalm 36 Vs 9
As you confess the above word from the LORD for this year by faith, it shall surely prevail over every contrary situation in your life in Jesus name, Amen.
Daily Prophetic Utterances.
Saturday
========
Saturday is the last day of the week, the rest of the LORD shall be your portion, your rewards in labour shall not be plundered by spiritual robbers in Jesus name, Amen - Ecclesiaste 5:18-20
IMPORTANT NOTICE
If the LORD lays it into your heart to sponsor or co-sponsor our proposed 30-minutes weekly Radio Program tagged:
"The Threat of Realities" by
Pastor Olufemi O. A
Please call any of our phone numbers for details. God Bless you.
Buy the books below to add value to your life:

MONTHLY SEMINARS
YOU CAN HOST ANY OF OUR FREE MONTHLY SEMINARS:
Financial Empowerment
and
Singles & Marriage
Click here for more info.
* To read Christian books online or to download your own copy Click Here!
* To download a free complete Bible into your Mobile phone today, visit: http://wap.jolon.org right on your phone now!
* To download a copy of Bible: Click Here! * Download a free Ebook titled: Get Revolution in World Missions.
Where the Need is Greatest
A gift of any size supports the lifesaving mission of the American Red Cross whether it's responding to a disaster, collecting lifesaving blood, teaching skills that can save a life, or assisting military members & their families. Send your help where it is needed most:www.redcross.org


FUND-RAISING APPEAL
TO ALL AND SUNDRY FOR OUR FIRST
WORSHIP CENTER AND YOUTHS EMPOWERMENT CENTER!!!
Please click here for full details
2017 : OUR YEAR OF TOTAL RECOVERY!
IT IS TIMES OF REFRESHING AS YOU READ

November 2017 Message:

Topic: Do you fear the LORD?

Bible Reference: "He will fulfill the desire of them that fear Him; He also will hear their cry, and will save them" Psalm 145 vs 19.


We thank God Almighty Jehovah El-shaddai for His mercies and compassion toward us, His sure protection over us and for bringing us yet into another new month and second to the last month in the year 2017. May His holy name be praised for
ever in Jesus name, amen.

This month, God sent His word to us, to challenge our conducts which accumulate to who we really are on the inside. Do you fear the Lord in the way and manner you have been conducting your business? What about among the brethren, at home,
in the office, at the bus stop, in the bus and anywhere else you might find yourself? Can people around you really testify about you as someone who fears the Lord?

The Bible says that the fear of the Lord is the beginning of wisdom, when you realize this and accept the word of God as an authority, you would hold it in high esteem, cherish, love and obey it. There are uncountable benefits in the word of God if we can obey it, in order word, ii would benefits us as we allow it to pilot our lives in the right direction so that we don't lose our bearing in Christ Jesus.

Undoubtedly, the Lord highlights the numerous benefits of fearing Him and allowing this fear to rule and be our main drive for doing whatever we are doing. This shows wisdom and wisdom is profitable to direct.

Apart from the sure protection we will always enjoy from the Lord, He also gave us these promises in our anchor reference - Psalm 145 vs 19. Obedience is the highest form of protection, every law and commandment God has given us serve as a boundary between us and the consequences of disobedience.

Lets look at these few promises of God amongst the many we can find in the scriptures:

* FULFILL OUR DESIRES:
Now we know that human desire are always selfish in its nature, how can God fulfill our desire irrespective of whatever it may be? Well, God made this promise based on the premises of the fact that "IF" we have His fear perfectly nestled in our heart like that of Joseph in the Potiphar's house and of course, every where he found himself. It is the fear of the Lord that will not make you commit that sin when nobody is watching or will find out. So many of us today only exercise restraints based on the fear of consequences rather than the fear of the Lord.

As long as the possibility of being caught if we stole somebody's belonging or tell lies to cover up our evil doing or commit adultery/fornication is totally removed, we will surely go ahead and commit that sin. Portiphar's wife made Joseph realised that if he can cooperate, he shall be adequately protected since she is the woman of the house but yet he refused her unholy juicy request, not once or twice but severally until she took a daring step to nail Joseph at last.

Even though Joseph suffered for what he didn't do but we can all see that it was the safest route to his destiny and promised land. CAN GOD REALLY COUNT ON YOU? God will not grant the desire of anyone who has no fear of Him in his/her heart because he/she will request for God's head.

* HEAR OUR CRY:
Severally, you and I would have either seen or experienced it at one time or the other crying desperately to God save us from whatever situation we see as life-threatening but yet he kept mute and would not respond.This was because we have no adequate fear of him that will qualify us as the one whose cry will always penetrate God's ear in us. God operates by principles that apply to all irrespective of our person before him. Once he has promised, it has been naturally set in motion and automated for actions without further interventions.

Obey or operate in accordance to God's principles and begin to witness miracles, possibilities, blessings, peace and joy unspeakable flow unhindered toward you effortlessly. When you fear the Lord, He will assuredly hear your cries and be compelled to grant your desperate requests.

* SAVE US:
Salvation belongs to the Lord and it comes about in the life of every individual who has the fear of God in him/her. He promised to save whoever fears Him, has HE done it before? Yes, He has done for Joseph in the Pharao's prison, He did same for Daniel in the lions' den, and the same for the trio - Shadrach, Meshrach and Abednego in the fiery furnace of fire, and many more that we cannot cover here for time and space. He saved them all, as He did then, He's still at work today and will continue to be faithful to His promises if only we can learn from the history of those who had gone before us. 1 Corinthians 10 vs 11.

Make conscious efforts to increase the fear of God in your heart and see these wonderful promises come into manifestations naturally in your life. It must grow first in your heart, reflect in your daily actions and activities then flow to others for emulation and the Lord would be greatly delighted in you.

As the year is running to a close in less than 60 days more, exercise this fear and see all the unanswered prayers since January till now begin to unfold into physical manifestations of blessings and testimonies. The grace to do so, receive it in now and cross into your promised blessing and achievements before the year runs out in Jesus name, amen.

Haven't surrendered your life to the Lord Jesus? Do so now, the next minute may be too late. Bow down your head now and say the 'Prayer of Repentance and Salvation' located somewhere on this site. May God accept, forgive and save you as you go to Him, may your name be written in the book of life as you renounce the devil and his evil ways in Jesus name.

Till next month if the Lord tarries,

Shalom.


NOTICE: Join us on WHATSAPP (+2348038359284) and on TELEGRAM (+2348022968451) with subject line "JOIN LGM" and you shall be added to our MINISTRIES" groups for daily fresh word from God through seasoned MINISTERS of God to refresh your Soul. God bless as you do.
Please fill the simple form below to join our mailing list, you will never miss any of our monthly messages again!
To be continued next month by His grace...

*** Click here for this Month's Prayer Points ***



* Click here to print this month's message

RAPTURE IS IMMINENT, DEATH IS SURE AND JUDGEMENT IS REAL!!!