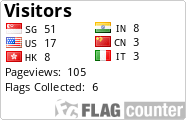 Word for the Year 2018
I sought the Lord and He heard me and delivered me from all my fears, troubles and affilictions in Jesus name, Amen.
Psalm 34 Vs 4
As you confess the above word from the LORD for this year by faith, it shall surely prevail over every contrary situation in your life in Jesus name, Amen.
Daily Prophetic Utterances.
Friday
========
As you round up your activities for the week this Friday, may everything about you be perfected, be profitable and you'll return fully with pleasant testimonies in Jesus name, Amen - Ecclesiaste 7:8
IMPORTANT NOTICE
If the LORD lays it into your heart to sponsor or co-sponsor our proposed 30-minutes weekly Radio Program tagged:
"The Threat of Realities" by
Pastor Olufemi O. A
Please call any of our phone numbers for details. God Bless you.
Buy the books below to add value to your life:

MONTHLY SEMINARS
YOU CAN HOST ANY OF OUR FREE MONTHLY SEMINARS:
Financial Empowerment
and
Singles & Marriage
Click here for more info.
* To read Christian books online or to download your own copy Click Here!
* To download a free complete Bible into your Mobile phone today, visit: http://wap.jolon.org right on your phone now!
* To download a copy of Bible: Click Here! * Download a free Ebook titled: Get Revolution in World Missions.
Where the Need is Greatest
A gift of any size supports the lifesaving mission of the American Red Cross whether it's responding to a disaster, collecting lifesaving blood, teaching skills that can save a life, or assisting military members & their families. Send your help where it is needed most:www.redcross.org


FUND-RAISING APPEAL
TO ALL AND SUNDRY FOR OUR FIRST
WORSHIP CENTER AND YOUTHS EMPOWERMENT CENTER!!!
Please click here for full details
2018 : OUR YEAR OF TOTAL RECOVERY!
IT IS TIMES OF REFRESHING AS YOU READ

August 2018 Message:

Topic: FAITH IS A CONNECTOR - Part V

Bible Reference:
"God having provided some better things for us; that they without us should not be made perfect" Hebrews 11 vs 40
Whether God answered our prayers or not, He has a good reason for doing so and the reason is always for our own benefits and for our own best. How many times would we have embarked upon a seemingly most important journey but couldn't because God did not provide transport fare or use one incident or the other to prevent us from being involved in an accident that would have claimed our lives if not for His refusal to honor such prayer?
We only become grateful when we discovered later that we would have been dead if He had answered and allowed us to go on such journey of no-return. Some of these unknown miracles happen every day without us knowing it and yet we blamed God for not allowing us to travel in order to possess that long-sought employment, contract, assistant or connection that would have changed our stories for better NOT knowing that something contrary awaits us at the other end!
Real faith will work wonders for you if you can allow God to do His works in His own way in your life "For my thoughts are not your thoughts, neither are your ways my ways, saith the LORD. For as the heavens are higher than the earth, so are my ways higher than your ways, and my thoughts than your thoughts". Isaiah 55 vs 8, 9. Trust God completely without struggling with Him or struggle your life out of His hands and controls.
Jesus Himself waited for good Thirty years (30 years) to begin His ministry and when He had completed His assignments, He declared "Father, the hour has come (The time is riped for the next step), glorify thy Son, that thy Son also may glorify thee..." John 17 - read the whole chapter. Can you wait that long just to start a project that will only last for Three years and after the expiration of the time allotted for such project without feeling jittery, feel intimidated by those who were flourishing in their own ministries while you were waiting for the "APPOINTED TIME" to start without having your patience runs out or without thinking of giving up the whole idea or better still, begin to doubt if this is from God?
We can't be wiser than God, whatever He does, He knows what He's doing, we are to trust His faithfulness and judgments completely, that is called "Real faith!"
True faith will make you to willingly sacrifice your only "ISAAC" to God even though you have waited for ages to bear him without arguments or doubts. True faith will make you reject partaking in one evil or the other only because of the love that you have for God and not because of the consequences of such action. When you love somebody, you will fear to hurt such and also obey whatever he/she asked you to do, which actually boils down to total trust. When a relationship blossoms, it can never devoid of love, godly fear, trust and deep reverence - how much of any of these do you have for God?
Can you commit your life into God's hands like Jesus, Shadrach, Meshrach, abednego, Daniel and other Apostles of old did in true faith? We will enjoy God to the fullest and live a peaceful life under any pressure or circumstances if we can exercise true faith in Him. Our love for God must not be based on what we stand to get from Him alone, it must not be measured by the number of our prayers He answered, it must not be measured by the frequency at which He answered our prayers or the amount of blessings He has bestowed upon us and our family alone. We should realize that there is no way we can love God more than He loved us. He valued our souls beyond all of His possessions both on earth and in heavens put together. "For what is a man profited, if he shall gain the whole world, and lose his own soul? or what shall a man give in exchange for his soul? Matthew 16 vs 26. God placed our "Soul" side by side with the "Whole World" and made us realize that our soul is more precious than the whole world He created and owned because it can't be enough to be an exchange for our soul in His sight, so why are you not placing such VALUE on your own soul as much as God did? That is the more reason why He did not delight that one single soul perish as a sinner but found it necessary to sacrifice His only begotten Son, His best - JESUS CHRIST in order to redeem us from the devil and destruction that is coming upon the whole world when it is time for judgment on those who live in disobedience to His commandments.
As we conclude this series of "FAITH IS A CONNECTOR". Are you saved or you are still considering it? Well, the next minute may be too late, decide now to surrender your life to God through the Lord Jesus as the Savior of your soul to escape the judgement that is coming. Bow down your head and say the sinners' prayer located some where on this same web-page, pray it with the whole of your heart and mean it.
May God accept and save you as you have come to Him in Jesus name. Congratulations if you have done it sincerely. May God through His Holy Spirit uphold you till the end and when the trumpet for rapture (The catching up of the righteous - real born again children of God) will sound, you, I and all that are living their lives in the fear of God shall not be disappointed in Jesus name, Amen.
Till next month when we shall meet again if the Lord tarries...
NOTICE:

Join us on

WHATSAPP (+2348038359284)

and on

TELEGRAM (+2348022968451)

with subject line "JOIN LGM" and you shall be added to our MINISTRIES" groups for daily fresh word from God through seasoned MINISTERS of God to refresh your Soul. God bless as you do.
Please fill the simple form below to join our mailing list, you will never miss any of our monthly messages again!
To be continued next month by His grace...

*** Click here for this Month's Prayer Points ***



* Click here to print this month's message

RAPTURE IS IMMINENT, DEATH IS SURE AND JUDGEMENT IS REAL!!!