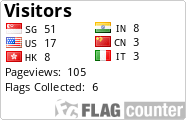 Word for the Year 2018
I sought the Lord and He heard me and delivered me from all my fears, troubles and affilictions in Jesus name, Amen.
Psalm 34 Vs 4
As you confess the above word from the LORD for this year by faith, it shall surely prevail over every contrary situation in your life in Jesus name, Amen.
Daily Prophetic Utterances.
Tuesday
========
Today being Tuesday, as you continue in your pursuit of all-round freedom, you shall catch up, overtake, recover all without fail and possess your possessions in Jesus name, Amen - I Samuel 30:8
IMPORTANT NOTICE
If the LORD lays it into your heart to sponsor or co-sponsor our proposed 30-minutes weekly Radio Program tagged:
"The Threat of Realities" by
Pastor Olufemi O. A
Please call any of our phone numbers for details. God Bless you.
Buy the books below to add value to your life:

MONTHLY SEMINARS
YOU CAN HOST ANY OF OUR FREE MONTHLY SEMINARS:
Financial Empowerment
and
Singles & Marriage
Click here for more info.
* To read Christian books online or to download your own copy Click Here!
* To download a free complete Bible into your Mobile phone today, visit: http://wap.jolon.org right on your phone now!
* To download a copy of Bible: Click Here! * Download a free Ebook titled: Get Revolution in World Missions.
Where the Need is Greatest
A gift of any size supports the lifesaving mission of the American Red Cross whether it's responding to a disaster, collecting lifesaving blood, teaching skills that can save a life, or assisting military members & their families. Send your help where it is needed most:www.redcross.org


FUND-RAISING APPEAL
TO ALL AND SUNDRY FOR OUR FIRST
WORSHIP CENTER AND YOUTHS EMPOWERMENT CENTER!!!
Please click here for full details
2018 : OUR YEAR OF TOTAL RECOVERY!
IT IS TIMES OF REFRESHING AS YOU READ

May 2018 Message:

Topic: FAITH IS A CONNECTOR - Part 2

Bible Reference:
"God having provided some better things for us; that they without us should not be made perfect" Hebrews 11 vs 40
All glory be to God Almighty Jehovah El-Shaddai who made it possible for us to see the new month, may His Holy Name be exalted for ever in Jesus name
We will continue from where we stopped last month ...Those who are getting their miracles were having them in arrears, meaning that these miracles were long overdue for delivery but due to one reason or the other they couldn't get them. Understand that these miracles were not what God is not willing to do or what He will do another day or month beyond the day the recipients of these miracles received them.
There is no advanced miracles but brought-forward miracles for those who own them. I pray today if you can say amen to this, that as you continue to exercise your faith in God, all your long overdue miracles, healing, blessings and deliverance shall be brought forward and delivered to you as the owner in Jesus name. In every area the devil has been short-changing you, you will recover all without fail in Jesus name.
Your faith is what will make you cling unto God still when things are not working in your ways without being discouraged or disappointed. Genuine faith does not try to command God to do what He wouldn't, it does not lose patience with God neither does it want things from God - now, now , now! It does not give God conditions and does not hold Him to ransom.
Real faith that will works looks beyond its personal desires and focus on God and our love for Him as our Father no matter how bad our situation may be.
Ask Daniel (Daniel 1 vs 8), Shadrach, Meshrach and Abednego (Daniel 3 vs 1-30), Job (Job 6 vs 9, 10). Real faith stands for God and defend Him "even if He will not save us". When God does a thing, He has s reason and when He didn't do it, He has a reason as well but in all, the reason is always for our own good.
How many times have we asked God for something and we became angry at Him when He didn't do it later to find our that it was for our own safety? Brethren, be steadfast with God, do not serve Him only because of what you can get from Him but what you can do and be for Him. Do not wrestle your life out of His hands and control, He sees everything you didn't see, He knows everything you didn't know and He alone can do everything you can can't do for yourself!
Your responsibility is to do His will, obey His commandments (words) and live in the spirit. Seek for His guidance and direction over every matter no matter how insignificant it may be and you shall not be stranded. Seek for His help and assistance in all your doings and you shall always succeed at whatever you do and you shall not be helpless. Listen to God and be sensitive to His leading/voice and you will not be a failure in every decision you make.
Acknowledge Him over every challenge you face and He will get you out of it as a better person, believe that every challenges He allowed your way has a definite purpose it must fulfill in your life, so try to overcome it in order to achieve a better result and reach to greater height. Don't get discouraged, back out, get angry at God/yourself or give up otherwise you will be like a student who gets angry at the teacher every time he has a test or exam to write. Is exam/test not there to assess him? Is test not there to help him discover his level of understanding of what he has been taught so far?
As a student of life, you should expect test, exams and even home-works at any point in time. It is to make you get better, you will discover certain things about yourself where you need either to build yourself or to adjust your ways of life/styles. If you are a child of God who is aspiring to book a permanent place in the kingdom of God, mustn't you be tested?
Challenges are test of life, they are meant to be overcome in order for the overcomer becoming a better, stronger and wiser person. It is not meant to kill you just as an exam or test were not meant to kill any student. If you evade it now just because it was not palatable, you will still meet it again in the future unless you don't want to get better in any way. Your challenges are peculiar to you alone thereby your responsibility, don't dodge it or try to avoid it if must get to the promised land. Unless you are not making progress but if you are, then challenges must come and as you are overcoming one, another one is around the corner at the next junction. One interesting thing about challenges is that solution resides right inside the present challenge for the next one in the future.
When you overcome a challenge, you will have the ready solution for the next challenge coming your way soon and your destination is sure for as long you continue to face and overcome, only the real and true faith in God can help you do this. A lazy man is a faithless man. If you have faith or believed that God can bless you, then you will create an avenues or channels for the blessing coming. The man of God told that widow to borrow jars that will accommodate and retain God's blessing that is about to be released and he said "...borrow not a few!". Assuming she rented a big reservoir then, that would have been the size of her blessing but the flow ceased as the borrowed jar got finished!
Expand your horizon for God's blessing, don't be lazy! One day, I was talking to God about my situation then, all the efforts I have made without tangible results and He answered me by giving me a scripture: "Be strong therefore, and let not your hands be weak; for your work shall be rewarded". This is an encouragement, I was strengthened by knowing the will of God concerning my situation. The real faith will seek God's face...
To be continued ne
NOTICE:

Join us on

WHATSAPP (+2348038359284)

and on

TELEGRAM (+2348022968451)

with subject line "JOIN LGM" and you shall be added to our MINISTRIES" groups for daily fresh word from God through seasoned MINISTERS of God to refresh your Soul. God bless as you do.
Please fill the simple form below to join our mailing list, you will never miss any of our monthly messages again!
To be continued next month by His grace...

*** Click here for this Month's Prayer Points ***



* Click here to print this month's message

RAPTURE IS IMMINENT, DEATH IS SURE AND JUDGEMENT IS REAL!!!