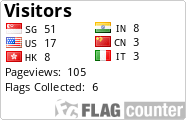 Word for the Year 2018
I sought the Lord and He heard me and delivered me from all my fears, troubles and affilictions in Jesus name, Amen.
Psalm 34 Vs 4
As you confess the above word from the LORD for this year by faith, it shall surely prevail over every contrary situation in your life in Jesus name, Amen.
Daily Prophetic Utterances.
Sunday
========
Sunday is the first day of the week. Worship the Lord and start your week with God highly exalted in your life and He shall draw blessings your way all throughout this week in Jesus name, Amen - Isaiah 48:3
IMPORTANT NOTICE
If the LORD lays it into your heart to sponsor or co-sponsor our proposed 30-minutes weekly Radio Program tagged:
"The Threat of Realities" by
Pastor Olufemi O. A
Please call any of our phone numbers for details. God Bless you.
Buy the books below to add value to your life:

MONTHLY SEMINARS
YOU CAN HOST ANY OF OUR FREE MONTHLY SEMINARS:
Financial Empowerment
and
Singles & Marriage
Click here for more info.
* To read Christian books online or to download your own copy Click Here!
* To download a free complete Bible into your Mobile phone today, visit: http://wap.jolon.org right on your phone now!
* To download a copy of Bible: Click Here! * Download a free Ebook titled: Get Revolution in World Missions.
Where the Need is Greatest
A gift of any size supports the lifesaving mission of the American Red Cross whether it's responding to a disaster, collecting lifesaving blood, teaching skills that can save a life, or assisting military members & their families. Send your help where it is needed most:www.redcross.org


FUND-RAISING APPEAL
TO ALL AND SUNDRY FOR OUR FIRST
WORSHIP CENTER AND YOUTHS EMPOWERMENT CENTER!!!
Please click here for full details
2018 : OUR YEAR OF TOTAL RECOVERY!
IT IS TIMES OF REFRESHING AS YOU READ

February 2018 Message:

Topic: Journey of faith

Bible Reference: "Now the LORD had said to Abram, get thee out of thy country, and from thy kindred, and from thy father's house, unto a land that I will show thee" Genesis 12 vs 1.


We shall always acknowledge our source, the Strong Tower, Jehovah El-Shaddai, eternal King of glory for seeing us through into the second month in the new year. May His name be glorified forever in our lives in Jesus name, Amen.

If you start your journey with God upon the threshold of faith, then you need nothing less than faith to keep going until you finish strong as expected by God. Take for instance,Abraham earned the title of "Father of faith" as a result of obeying an unseeing God, trusting that He was able to see him through everything he went through. At the start when God called him out of his father's house, it wasn't as if he has no place he can pay his head in fact, his father's house provided a good cover for him and his family but God told him to forsake a sure and tangible abode to go and look for an uncertain and abstract place to live; God did not even tell him where to go exactly, it was like - just get out and begin to go on my instructions, and I will be directing you as you go".

Abraham as a matter of fact reserves every right to know what was obtainable for him in this journey of no description, no certainty and of course, no destination in sight, "just go" before he can make up his mind to obey BUT notwithstanding he obeyed and left as commanded.

Our journey with God is by faith and shall always be. In this journey, there would always be times without number when you would feel tired, lost and stranded because it is a journey of faith. Sometimes you would feel neglected and forsaken, empty or even inferior to those who are having life good than yours without stress, the reason is because it is a journey of faith where you need God's instructions and directives at every point in time to make headway or proceed.

It is a journey were you need God's presence as your only companion every step of the way, although any people may come along at any point in time but they will leave at one point or the other. A journey that you need to wait and not move until you are given the next directive to move, a journey of patience that must be adopted as your life style "knowing this, that the trying of your faith works patience (because it must be there in your life); but let patience have her perfect work, that you may be perfect and entire, wanting nothing" James 1 vs 3, 4.

It is a journey where you must do well (pass) when your faith has been tested before you are promoted to the next level, a journey where you must completely forsaken every offer of help that didn't come from the ONE who called you out and put you on that journey form a purpose.

A journey where you, as a matter of necessity, to finish strong, must see the destination with the eye of your mind and faith, and imagine that all would be well at the end. A journey where you must keep on defending your every act of faith with no tangible reason why you did so other than "God told me to do it", without any physical evidences to back up your actions and claims than maintaining your convictions, confessions and professions that your "Redeemer liveth" and you know what you doing while right at the back of your mind, there are hidden fear and insecurity of "what if it wasn't so? or "what if it doesn't work or play out as you claim that God said?"

It is a journey where the devil keep on tormenting you with fear and his stinging words "Your eye will soon clear", it is a journey where today, you are full of joy and assurance but tomorrow, you are weigh down by emptiness and despair but even in all these, you are still expected to remain faithful, calm, hopeful and peaceful, rejoicing whether you have a reason to do so or not! "In everything give thanks; for this is the WILL of God in Christ Jesus concerning you" `1 Thessalonian. 5 vs 18.

In one word, it is a strange journey which anyone walking by sight cannot maintain,a strange and mysterious journey where you shift your focus away from all comforts of this world, see them as distractions and focus on God's intangible promises, covenants and words as your only hope and targets. A journey where you must keep the rewards promised in heaven and after as your only hope and aspirations to keep you on.

A journey where only you can not explain/express your feelings and joy to be saved by Jesus,washed by His blood,justified and cleaned, uphold by His power and spirit, backing in His glory and honor that you are God's sons and daughters with heavenly hope and home when ALL material things that give temporary joy and happiness shall perish,and ALL people that had clanged to them shall soon have their hopes shattered, dashed and regretted ever wasting their precious time and purpose chasing shadows and missed out at the end where it matters the most-heaven and eternal rest.

Are you reading these but you have not yet settled your case of many sins and worldliness with Jesus,the savior and the Prince of Peace? Bow down your head now in reminiscence,how bad you have done it,how long you have held to vanities and how foolish you have made yourself to be clinging to ephemeral, repent, regret, confess and forsake these ALL and invite Jesus to your life and into your heart, pray the sinner's prayer situated somewhere near on this web-page and mean it from your heart.

May God accept you as you come to him through salvation by Christ Jesus, rehabilitation or reformation cannot place you right with God, man at his best is a little better than the beast in characters and thoughts.

If you are a child of God already, keep on threading the way, it is the TRUTH that leads to the LIFE eternity. We shall not be found missing in heaven in Jesus name. It is a matter of time and patience. Till next month if the Lord tarries

Shalom


NOTICE: Join us on WHATSAPP (+2348038359284) and on TELEGRAM (+2348022968451) with subject line "JOIN LGM" and you shall be added to our MINISTRIES" groups for daily fresh word from God through seasoned MINISTERS of God to refresh your Soul. God bless as you do.
Please fill the simple form below to join our mailing list, you will never miss any of our monthly messages again!
To be continued next month by His grace...

*** Click here for this Month's Prayer Points ***



* Click here to print this month's message

RAPTURE IS IMMINENT, DEATH IS SURE AND JUDGEMENT IS REAL!!!