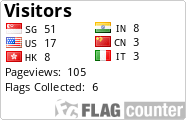 Word for the Year 2017
With You oh Lord, there is Fountain of life, and in Your Light we shall see light in Jesus name, Amen.
Psalm 36 Vs 9
As you confess the above word from the LORD for this year by faith, it shall surely prevail over every contrary situation in your life in Jesus name, Amen.
Daily Prophetic Utterances.
Sunday
========
Sunday is the first day of the week. Worship the Lord and start your week with God highly exalted in your life and He shall draw blessings your way all throughout this week in Jesus name, Amen - Isaiah 48:3
IMPORTANT NOTICE
If the LORD lays it into your heart to sponsor or co-sponsor our proposed 30-minutes weekly Radio Program tagged:
"The Threat of Realities" by
Pastor Olufemi O. A
Please call any of our phone numbers for details. God Bless you.
Buy the books below to add value to your life:

MONTHLY SEMINARS
YOU CAN HOST ANY OF OUR FREE MONTHLY SEMINARS:
Financial Empowerment
and
Singles & Marriage
Click here for more info.
* To read Christian books online or to download your own copy Click Here!
* To download a free complete Bible into your Mobile phone today, visit: http://wap.jolon.org right on your phone now!
* To download a copy of Bible: Click Here! * Download a free Ebook titled: Get Revolution in World Missions.
Where the Need is Greatest
A gift of any size supports the lifesaving mission of the American Red Cross whether it's responding to a disaster, collecting lifesaving blood, teaching skills that can save a life, or assisting military members & their families. Send your help where it is needed most:www.redcross.org


FUND-RAISING APPEAL
TO ALL AND SUNDRY FOR OUR FIRST
WORSHIP CENTER AND YOUTHS EMPOWERMENT CENTER!!!
Please click here for full details
2017 : OUR YEAR OF TOTAL RECOVERY!
IT IS TIMES OF REFRESHING AS YOU READ

June 2017 Message:

Topic: What stuff are you made of? Part 1

Bible Reference: "And be not drunk with wine, wherein is excess, but be filled with the Spirit" Ephesians 5 vs 18.


This is another month and still counting. I hope somebody in spite whatever condition he/she may be passing through would see the goodness of God in action. He is the ONE who has kept us alive against all odds to fulfill His plans and purpose for our lives. May the name of the LORD God Jehovah El-Shaddai be praised forever in Jesus name, Amen.

The word of the LORD for you and I this month comes as a question - what stuff are you made of? If we had to start dissecting it in various forms, I will equate it to these: "Who are you?", "What kind of person are you?", "What are your aims in life?" or "What are your pursuing as your priority?". All of these questions are closely related to and really probing into our real individual personality. Our anchor Bible reference above poses 3 important factors that may be deduced in any of the above questions are:

1. Option

2. Danger

3. Definition


1. Option:

Our Bible reference pointed out 2 kinds of Christians you can find on earth:

a. The Spirit-filled Christians

b. The Wine-filled Christians

If you missed being one of these two, then you are the other. You may argue it out that you are a christian or even a born-again christian but you are not a drunkard because you don't take alcohol, wine, Beer or anything of such nature. Fine, you have a point there but by the time you realize the folly of living your life outside the "Life of the Spirit", you will totally agree with the word of God.

A popular man of God used to say that "A Christian can never be a sinner and a sinner can never be a Christian". This means that there is a huge gulf between being a saint and a sinner. The book of 1 John 3 vs 8 says "Whosoever commits sin is of the devil...". Even if you have been living on the Altar of God for decades but iniquity can still be found in you, then you are devil's property! It is just that the devil has no right to claim you now until you refused to repent and eventually die in your sins; then he will drag you to his eternal abode - hell.

It doesn't matter your position or personality in your religion or the exploits you have made in the name of God, if you die in your sin, the devil holds absolute right to claim you. This is the more reason the devil will not trouble you. As long as you are courting sin (fire) in your bosom, he's waiting form you to die in that condition so that he can lay claim on you. It is much more better to retrospect and search your life "If there be iniquity in you!"; repent NOW before you have your last breath cross over to the eternity.

A Spirit-filled person always find his/her way back to God whenever he derails. Spirit-filled people always retrospect on their past, link it to the present and reason that if death should come calling, where will they spend their eternity. Wine-filled people would never accept being wrong in their attitudes or characters talk less of being remorseful over it and repent until they are caught and cut down in the web of their sins or atrocities by death. Wine-filled people will not see themselves as human who can sin or make mistakes but that they are super-human with pride. They never submit nor swallow their pride in repenting and going to God for forgiveness.

Wine-filled people are plenty in the church, read Bible but never follow what they read, pretend to be holy and still will never change until their end comes unexpectedly. Yes, they seem perfect until their can of worms are opened in eternity where it would be too late to repent. Wine-filled people always suspect themselves because of their ways of life, suspecting others too and accusing others of judging them, yet their lives are stinking before God.

Wine-filled people are selfish, devoid of feelings for others, always minding that everything must go their ways alone but yet see people as cheating them when corrected from their ways of errors and path of destruction.

Spirit-filled people do not pride themselves no matter who they are or what they can do. Spirit-filled people never operate under pressure to fast-track or help God fulfill His will for their

lives but wait patiently knowing fully well that God who planned their lives has more than enough resources, control order systems and has set appointed time for every purpose in their lives no
matter the pressure from the worldly people around them. They never get tired easily or lose focus of what God is doing in their lives and how he's been leading them individually not giving
attention to any side-comments to distract and derail them from continuing.

Spirit-filled people don't get stranded in life because they know where they are going and who
alone (God) can get them there, not by power, struggles or disobedience by feeling it is their lives, no!

How are you operating your life today? Is it like a Spirit-filled or a Wine-filled fellow? If the LORD would not build the house, the builders labor in vain but if God is there, little will be much and enough to bail out of shame and disgrace - that is what the Lord promised to those who
would continuing following, trusting Him and pursuing His will for their lives without being under pressure to please men therefore become derailed and distracted.

We will continue next month if the LORD tarries but if you haven't become genuinely born-again (John 3 vs 3-5), do it now. You are blessed in Jesus name, Amen.

Shalom


NOTICE: Join us on WHATSAPP (+2348038359284) and on TELEGRAM (+2348022968451) with subject line "JOIN LGM" and you shall be added to our MINISTRIES" groups for daily fresh word from God through seasoned MINISTERS of God to refresh your Soul. God bless as you do.
Please fill the simple form below to join our mailing list, you will never miss any of our monthly messages again!
To be continued next month by His grace...

*** Click here for this Month's Prayer Points ***



* Click here to print this month's message

RAPTURE IS IMMINENT, DEATH IS SURE AND JUDGEMENT IS REAL!!!