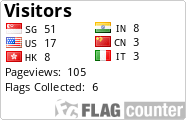 Word for the Year 2017
With You oh Lord, there is Fountain of life, and in Your Light we shall see light in Jesus name, Amen.
Psalm 36 Vs 9
As you confess the above word from the LORD for this year by faith, it shall surely prevail over every contrary situation in your life in Jesus name, Amen.
Daily Prophetic Utterances.
Friday
========
As you round up your activities for the week this Friday, may everything about you be perfected, be profitable and you'll return fully with pleasant testimonies in Jesus name, Amen - Ecclesiaste 7:8
IMPORTANT NOTICE
If the LORD lays it into your heart to sponsor or co-sponsor our proposed 30-minutes weekly Radio Program tagged:
"The Threat of Realities" by
Pastor Olufemi O. A
Please call any of our phone numbers for details. God Bless you.
Buy the books below to add value to your life:

MONTHLY SEMINARS
YOU CAN HOST ANY OF OUR FREE MONTHLY SEMINARS:
Financial Empowerment
and
Singles & Marriage
Click here for more info.
* To read Christian books online or to download your own copy Click Here!
* To download a free complete Bible into your Mobile phone today, visit: http://wap.jolon.org right on your phone now!
* To download a copy of Bible: Click Here! * Download a free Ebook titled: Get Revolution in World Missions.
Where the Need is Greatest
A gift of any size supports the lifesaving mission of the American Red Cross whether it's responding to a disaster, collecting lifesaving blood, teaching skills that can save a life, or assisting military members & their families. Send your help where it is needed most:www.redcross.org


FUND-RAISING APPEAL
TO ALL AND SUNDRY FOR OUR FIRST
WORSHIP CENTER AND YOUTHS EMPOWERMENT CENTER!!!
Please click here for full details
2017 : OUR YEAR OF TOTAL RECOVERY!
IT IS TIMES OF REFRESHING AS YOU READ

August 2017 Message:

Topic: What stuff are you made of? Part 3

Bible Reference: "And be not drunk with wine, wherein there is excess, but be filled with the Spirit" Ephesians 5 vs 18.


We give all the glory to the Father of all creations. The ONE who has brought us to another month in good health, peace with ourselves and others, for His goodness and mercies. May His name be praised for ever!

We shall continue on the 3rd series of the message we have been treating months ago. This is the last part by His grace. In the last series, we learnt several ways by which people can be hooked to certain destructive habits that can destroy their lives to an irredeemable level (death) if care is not taken and the only way out of it...

2. FORSAKE THE OLD COMPANY: To stop fueling the dying flames of sins, all your old friends especially those who are also in the chain must be completely avoided and shunned totally.

3. YOUR FAITH MUST BE CHANNELED ONLY TO THE DELIVERER (JESUS alone): It is not the Minister that will deliver you, Jesus is the deliverer, without Him, your "Minister" is totally helpless except he/she is using alternative means to support his/her own "God's work".

4. SHUN THE TARGETED PLACES AND OBJECTS OF ATTRACTIONS: For a drunk, he/she will have to shun parties, beer parlour, joints or any gathering promoting alcohol or fueling its desire. same with an ex-adulterer/adulteress, fornicator, porn, masturbator, lesbian, gay or other likes to shun their gathering and other partners-in-sin totally. They must cut all ties to these places or personalities involved.

5. ENGULF YOURSELF WITH THE WORD OF GOD: Fill your heart with the word of God always to remain positive and holy. The word of God is powerful, it is Spirit and life, capable of dislodging any evil thoughts or imaginations that may pull you back or re-fuel negative thoughts as regards your total deliverance. Purify your heart with the blood of Jesus daily and allow only positive thoughts in your heart. Practice what you read in the word of God. I pray as you read, the Holy Spirit will enlighten you about the word of God for accurate and genuine interpretations. Please read Psalm 1 to the end, add prayers and fasting often to establish authority over the devil.

3. DEFINITION - "You will be able to tell by their fruits..." Matthew 7:16

What you do perfectly reflects who you are whether you agree or not. That is who you really are and there can't be any other truth about it. Jesus says that we know shall know people by their fruits (actions/behaviors), so if you profess to be a heavenly-minded Christian, there is no sin in profession but your actions must correspond to whatever you professed other wise there would be question of integrity.

I have met SOME people even the so-called men of God that have no integrity, you can't rely on their words otherwise you would be disappointed over and over again! You know, ONCE can be termed as a mistake, God does not quarrel with that because mistake has no master, anyone can make mistake EXCEPT GOD! But when it becomes arbitrary and you keep getting disappointed and the person in question does not see anything wrong in what he/she was doing, then there is danger!

Move away from such because anyone you take after must be the one with a similar interest with you or else you would both land in unwanted terrain of regrets and sorrows. MANY leaders wants to be seen OR chosen as role models but lacked integrity and other virtues that can qualify them as one. They may have money and other resources to impose themselves on others but they lacked what it takes to be genuine leaders to follow in all ramifications. People like this, no matter how popular or widely known they may be, they must go back to God and REDEFINE THEIR STANDS meaning that they must go and start aright before God and the men they have deceived by their jamborees.

At this junction, whether you are a follower or the followed, are you really the person people around think you are! Are you one those who are doing the work of the kingdom with worldly measures asserting that it does not matter? Everything matters in the kingdom as long as God is concerned! He doesn't overlook anything that concerns His integrity so if you are named with Christ, you MUST be Christ-ian all-round, not Christ-full outwardly BUT christ-less inwardly. Many are being deceived by watered-down doctrines, fake teachings and heresies and beig set down likewise to also deceive others since it perfectly matches their desired lifestyles BUT THIS IS NOT GOSPEL, no matter who taught it, once it is not the word of God, then it is the word of men (contradictions everywhere!).

WHOEVER YOU ARE, go back to the CROSS, that is the only place to go because you can't be greater than Jesus Himself, He went to the cross and came back bearing victory for you and you also must be there to claim and possess your victory!

Bow down your head and make the confession of home-coming to the Lord, He's waiting for you - other wise He won't tell us the story of the prodigal son in the Bible so don't be deceived that He can't receive you back, He will! Redefine your stand before Him today and repent, restitute your ways before Him, the people you have deceived must be restored back to the way of the truth, it may not be easy to do but that is the only WAY - the TRUTH!

If you have never given your life to Jesus, do it now, tomorrow may be too late. If you have backslided, God is ever ready to restore you though it may be hard as the Bible has said but with God it is possible for you to be restored and be saved!

If the Lord tarries, we shall meet again next month

Shalom


NOTICE: Join us on WHATSAPP (+2348038359284) and on TELEGRAM (+2348022968451) with subject line "JOIN LGM" and you shall be added to our MINISTRIES" groups for daily fresh word from God through seasoned MINISTERS of God to refresh your Soul. God bless as you do.
Please fill the simple form below to join our mailing list, you will never miss any of our monthly messages again!
To be continued next month by His grace...

*** Click here for this Month's Prayer Points ***



* Click here to print this month's message

RAPTURE IS IMMINENT, DEATH IS SURE AND JUDGEMENT IS REAL!!!