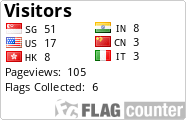 Word for the Year 2018
I sought the Lord and He heard me and delivered me from all my fears, troubles and affilictions in Jesus name, Amen.
Psalm 34 Vs 4
As you confess the above word from the LORD for this year by faith, it shall surely prevail over every contrary situation in your life in Jesus name, Amen.
Daily Prophetic Utterances.
Wednesday
========
On this beautiful Wednesday, you will hear the voice of the LORD in your ear saying"this is the way, walk in it", you shall be well guided, your spiritual antenna shall be highly sensitive to receive instructions and as you obey, may you return today rejoicing in Jesus name, Amen - Isaiah 30:21
IMPORTANT NOTICE
If the LORD lays it into your heart to sponsor or co-sponsor our proposed 30-minutes weekly Radio Program tagged:
"The Threat of Realities" by
Pastor Olufemi O. A
Please call any of our phone numbers for details. God Bless you.
Buy the books below to add value to your life:

MONTHLY SEMINARS
YOU CAN HOST ANY OF OUR FREE MONTHLY SEMINARS:
Financial Empowerment
and
Singles & Marriage
Click here for more info.
* To read Christian books online or to download your own copy Click Here!
* To download a free complete Bible into your Mobile phone today, visit: http://wap.jolon.org right on your phone now!
* To download a copy of Bible: Click Here! * Download a free Ebook titled: Get Revolution in World Missions.
Where the Need is Greatest
A gift of any size supports the lifesaving mission of the American Red Cross whether it's responding to a disaster, collecting lifesaving blood, teaching skills that can save a life, or assisting military members & their families. Send your help where it is needed most:www.redcross.org


FUND-RAISING APPEAL
TO ALL AND SUNDRY FOR OUR FIRST
WORSHIP CENTER AND YOUTHS EMPOWERMENT CENTER!!!
Please click here for full details
2018 : OUR YEAR OF TOTAL RECOVERY!
IT IS TIMES OF REFRESHING AS YOU READ

April 2018 Message:

Topic: FAITH IS A CONNECTOR - Part 1

Bible Reference: God having provided some better things for us, that they without us should not be made perfect" Hebrews 11 vs 40


To God be ALL the glory for being our FATHER and our God. The ONE who has never failed and will never fail us. We thank HIM for another new month, may His Holy Name be praised forever in our lives in Jesus name.

The word of God for us this moth came to show us what FAITH is in a new dimension and when I was made to realize that not having the knowledge of FAITH in this light has made many children of God failed. Some perceived God differently and had used faith in ways it cannot and will never work for them no matter how hard they tried and how long they keep trying. No matter how long you keep traveling in a wrong direction, it will never take you to your destination, the ONLY solution is to turn back and get on the road in the right direction.

Most times, as children of God, we tend to use faith to control God as a remote controller is used to control our devices and at some times we used faith as a bribe to get God do what He will not do. Little wonder why our faith is not working like that of the people in the Bible?

In this contemporary world, when we saw others demonstrating their faith and it worked for them, we begin to ask questions upon questions why our own faith did not produce results? After all, they said 'believe God', we did; they said 'read His word, digest it and practice it' we did; they said 'pay your tithe, offerings and all that' we did; they even encouraged us to make pledge, vow and do things in the house of God, give something tangible to the man of God, attend every service that comes up especially the mid-week services, we did; they said 'we should come to the house of God with joy and high expectations, sow into the work of God and into the live of others as we are
blessed, we did; they said 'we should pray 24/7 without ceasing as Jesus Himself admonished us and all other religion activities as demandave to remain relevant to God and in the spirit realm BUT things still remained the same! Where did we missed it?

Some even defined faith as 'NOW' (Hebrews 11 vs 1a) but can you tell me sincerely, would you not feel disappointed after you have done all these aforementioned acts and yet things remained the way they were, no forward match and it seems getting worse as we tried and tried all we could, following every prescription from the men of God - at least, those who know more than we do!

As illuminated by the Holy Spirit when I got to the end of my wit just like you are right now. Faith is not a remote controller to make God do what He will not do. Your faith can't get God to do what He will do next year today, it is impossible, that is where many failed. You can't bribe God with faith to break His own will by doing what He's not ready to do as we wrongly believed and when thing do not work according to our expectations after all is done, we became frustratr all is done, we became frustrated and disappointed at God and sometime at ourselves because we felt inadequate or not good enough to receive from God.

The ONLY way to please God with our faith is not to get on the wrong side of His record. Real faith makes you love God and without this you can't please Him. To please God with your faith, you have to Know God as He is exactly and serve Him as He should be served. God is not your slave, servant, gadget to control as we like especially to fulfill our selfish desires or our errand boy to push around! Without FAITH, it is impossible to please God, if it is so as the Bible has said, can we now use our faith the way we like to make God do things in our own way? No, that would be wrong if we are to go by God's Word.

So you will ask me, what then is faith? How do we apply our faith to get results as God wants it? What else are we to do to avoid all these pains and disappointments? God told me that "Faith is a connector to His presence, not a remote controller to make Him do what He will not do!" When you pick up your remote controller, point it to your Electronic or computer device, what happens next is dependent on the kind of command button you as the ONE in control press on your remote controller and your device will respond accordingly whether it likes or not but have you noticed that mere pointing it to your device would do nothing, it would only establish connection between your remote controller and your device and the command button you press before there can be any response!

The same way, God is the ONE in control, faith will ONLY connect you to His presence and when you are connected, His perfect will shall be done in your live according to what He has purposed in His heart to do in that particular moment in tandem with His divine time-table and agenda for your live. Know this that whenever you are connected to His presence, whether you feel it or not, whether you know it or not, whether you see it or not, something happens!

Now, you will ask me "What about the woman with the issue of blood? Her faith got her connected to Jesus she never knew before and she got her miracle. She got it because of two reasons, one, it has become an arrears issue, she suffered for twelve solid years having spent all she had but no way and when her faith established connection between her and her maker, God decided to have mercy on her and her faith made her whole. two, God did it to let people around believe in Jesus and to glorify Himself because Jesus will always do God's will. Even Jesus too tried to cause God to do otherwise when He was overtaken by temptation in the garden of Gethsemane, did God answer Him? No! As faithful and obedient as Jesus is, He could not get God to change HIS mind.

We will continue with this series next month if the Lord tarries.

Shalom



NOTICE: Join us on WHATSAPP (+2348038359284) and on TELEGRAM (+2348022968451) with subject line "JOIN LGM" and you shall be added to our MINISTRIES" groups for daily fresh word from God through seasoned MINISTERS of God to refresh your Soul. God bless as you do.
Please fill the simple form below to join our mailing list, you will never miss any of our monthly messages again!
To be continued next month by His grace...

*** Click here for this Month's Prayer Points ***



* Click here to print this month's message

RAPTURE IS IMMINENT, DEATH IS SURE AND JUDGEMENT IS REAL!!!