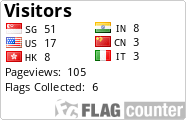 Word for the Year 2017
With You oh Lord, there is Fountain of life, and in Your Light we shall see light in Jesus name, Amen.
Psalm 36 Vs 9
As you confess the above word from the LORD for this year by faith, it shall surely prevail over every contrary situation in your life in Jesus name, Amen.
Daily Prophetic Utterances.
Tuesday
========
Today being Tuesday, as you continue in your pursuit of all-round freedom, you shall catch up, overtake, recover all without fail and possess your possessions in Jesus name, Amen - I Samuel 30:8
IMPORTANT NOTICE
If the LORD lays it into your heart to sponsor or co-sponsor our proposed 30-minutes weekly Radio Program tagged:
"The Threat of Realities" by
Pastor Olufemi O. A
Please call any of our phone numbers for details. God Bless you.
Buy the books below to add value to your life:

MONTHLY SEMINARS
YOU CAN HOST ANY OF OUR FREE MONTHLY SEMINARS:
Financial Empowerment
and
Singles & Marriage
Click here for more info.
* To read Christian books online or to download your own copy Click Here!
* To download a free complete Bible into your Mobile phone today, visit: http://wap.jolon.org right on your phone now!
* To download a copy of Bible: Click Here! * Download a free Ebook titled: Get Revolution in World Missions.
Where the Need is Greatest
A gift of any size supports the lifesaving mission of the American Red Cross whether it's responding to a disaster, collecting lifesaving blood, teaching skills that can save a life, or assisting military members & their families. Send your help where it is needed most:www.redcross.org


FUND-RAISING APPEAL
TO ALL AND SUNDRY FOR OUR FIRST
WORSHIP CENTER AND YOUTHS EMPOWERMENT CENTER!!!
Please click here for full details
2017 : OUR YEAR OF TOTAL RECOVERY!
IT IS TIMES OF REFRESHING AS YOU READ

December 2017 Message:

Topic: What is Your Attitude?

Bible Reference: Although the fig tree shall not blossom, neither shall fruit be in the vines, the labour of the olive shall fail, and the fields shall yeild no meat, the flock shall be cut off from the fold and there shall be no herd in the stalls, yet I will rejoice in the LORD, I will joy in the GOD of my salvation -
Habakkuk 3 vs 17, 18.


Glory be to God Jehovah El-Shaddai in heaven, we are finally here in peace, joy and still bouncing. If not by His mercy, grace and faithfulness, then where would we have been by now? Halleluyah to His holy name in Jesus name, Amen.

If I were you, I will praise and worship God for at least 30 minutes for who He is and had been unto you. No matter how bad your experiences might have been so far this year, may be only a handful of His promises for you initially this year only to pass or may be NONE of these promises has come to pass at all. As long as you are still alive and healthy, the rest days in this year is more than enough for God to deliver or answer your prayers and turn things around for your good.

As a child of God, let your attitudes show God that you have no plan B or alternative anywhere. Some have openly declared that they would not serve God anymore because all the years they have served Him had been a waste of time and energy BUT let me ask you a few questions: While you were not yet born into the world, is God not in existence? When you were born and not yet known God, is He still not in control? When you have known Him and now tired of serving Him, can your threat have any negative impact on God's existence and control over both heaven and the earth? No!

Brethren, you are the one who need God at every point in time. Learn lessons from the attitude of the writer of our anchor reference; he wrote things that marveled me a lot. In his note, he actually said "Although. the fig tree shall not blossom..." and in all his interjections, he emphasized and repeated the same word "...shall not..." this ultimately means that he was not talking about what he had already gone through or what he was currently going through but what he may likely face in the future, this means he had already prepared his mind for emergency challenge that may come to test his faith in God, just like Nebuchadnezzar, the king of Babylon was used to test the faith of Shadrach, Meshrach and Abednego with the fiery furnace of fire, it even got worse when the response to him from those stalwarts embarrassed him in the presence of his subjects, he got infuriated and asked that the fire be increased in strength seven fold but none of this ever shook the adamant faith of these faithfuls. The heaviest blow in their answer was not refusing to bow for his idol but when he was clearly told that even if God will not deliver them, they were not ready to deny Him for anything, not even for their safety. Dan.3 vs 1-end, Job 13 vs 15

I don't know how bad your situation may be that is making you to doubt God's existence in your heart or may be you have even threatened to stop serving Him and you are currently in akimbo state or even contemplating swapping to religion because they are promising you heaven and earth if you can switch over, please don't do it! Hell is full already, don't go and choke them there, you don't belong in that category! No matter what your case may be, note that you will some day come across those in worse situation yet they served God with joy and are highly persuaded of His existence and would not deny Him because their needs were not met.

Remember whatever the needs you have not received from God and it's making you to doubt HIM are ephemeral in nature, you will leave them here on earth one day or they will leave you, that is the truth, so if you are serving God because of material needs, what will be your story when you get to eternity? "What does it profits a man to gain the whole world and lose his soul? Your life does not consist in the abundance of whatever material things you may possess. Mark 8 vs 36. Aside, God loves you and will not give you what will make Him lose you, the timing must be right - appointed time, Eccl.3 vs 1. You must be ready for whatever your request is before God - preparation, training and spiritual maturity must be attained, it must be to glorify the name of God alone and not for selfish reasons - your motive must be right and godly.

Once you are still alive, there is hope for you - Eccl.9 vs 4, He's God who can do all things, everything is possible with Him and will always be. Stay glued to HIM, He's the reason why you are living, His breath of life is what is keeping you alive, without Him, you can do nothing. Let your attitudes show the devil that you ready to die if it comes to that instead of denying or doubting Him. Some have insultingly contemplated or attempted suicide because they were tired of life that has no meaning without God! If you are the one, may God forgive you and restore you back in His love. If this year passed without any of your requests granted, it doesn't means the end, God knows you can survive without them. Aside, He does things and make them beautiful in His own time. God is ever faithful to His promises and covenants. Stick to Him and when the time is right, whether this year or next, He will do it the most beautiful - Eccl.3 vs 11, and all those who thought they had left you behind shall be overtaken and they will begin to watch your tail-lights a far off in Jesus name. Eccl.3 vs 14. Give your life to Jesus if you have not.

In every area you have been despised, you shall soon be celebrated in Jesus name. All those who thought you cannot survive without their supports and contributions, you will feed them, they will seek and queue for your assistance in Jesus name, Amen

I wish all our brethren, users and subscribers MERRY CHRISTMAS AND HAPPY NEW YEAR in advance. If the LORD tarries, we shall meet again come next year 2018. Till then and beyond, remain faithful and grateful to God who can do all things. You are blessed

Shalom


NOTICE: Join us on WHATSAPP (+2348038359284) and on TELEGRAM (+2348022968451) with subject line "JOIN LGM" and you shall be added to our MINISTRIES" groups for daily fresh word from God through seasoned MINISTERS of God to refresh your Soul. God bless as you do.
Please fill the simple form below to join our mailing list, you will never miss any of our monthly messages again!
To be continued next month by His grace...

*** Click here for this Month's Prayer Points ***



* Click here to print this month's message

RAPTURE IS IMMINENT, DEATH IS SURE AND JUDGEMENT IS REAL!!!