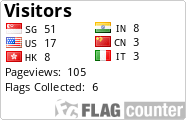 Word for the Year 2018
I sought the Lord and He heard me and delivered me from all my fears, troubles and affilictions in Jesus name, Amen.
Psalm 34 Vs 4
As you confess the above word from the LORD for this year by faith, it shall surely prevail over every contrary situation in your life in Jesus name, Amen.
Daily Prophetic Utterances.
Wednesday
========
On this beautiful Wednesday, you will hear the voice of the LORD in your ear saying"this is the way, walk in it", you shall be well guided, your spiritual antenna shall be highly sensitive to receive instructions and as you obey, may you return today rejoicing in Jesus name, Amen - Isaiah 30:21
IMPORTANT NOTICE
If the LORD lays it into your heart to sponsor or co-sponsor our proposed 30-minutes weekly Radio Program tagged:
"The Threat of Realities" by
Pastor Olufemi O. A
Please call any of our phone numbers for details. God Bless you.
Buy the books below to add value to your life:

MONTHLY SEMINARS
YOU CAN HOST ANY OF OUR FREE MONTHLY SEMINARS:
Financial Empowerment
and
Singles & Marriage
Click here for more info.
* To read Christian books online or to download your own copy Click Here!
* To download a free complete Bible into your Mobile phone today, visit: http://wap.jolon.org right on your phone now!
* To download a copy of Bible: Click Here! * Download a free Ebook titled: Get Revolution in World Missions.
Where the Need is Greatest
A gift of any size supports the lifesaving mission of the American Red Cross whether it's responding to a disaster, collecting lifesaving blood, teaching skills that can save a life, or assisting military members & their families. Send your help where it is needed most:www.redcross.org


FUND-RAISING APPEAL
TO ALL AND SUNDRY FOR OUR FIRST
WORSHIP CENTER AND YOUTHS EMPOWERMENT CENTER!!!
Please click here for full details
2018 : OUR YEAR OF TOTAL RECOVERY!
IT IS TIMES OF REFRESHING AS YOU READ

January 2018 Message:

Topic: In the beginning...

Bible Reference: "And Jacob vowed a vow, saying, if God will be with me and will keep me in this way that I go and will give me bread to eat and raiment to put on..." Genesis 28 vs 20 - 22


We thank God for His mercy and faithfulness concerning all of His promises and covenants. From January till December, He's God and there is no arguments about it. Many water has passed under the bridge but He didn't allow it to overwhelm us, here we are in the new year 2018!

All glory be to HIS holy name.

As the year 2018 unfolds, how will you chart your course? In the Bible reference given as our anchor, Jacob who sets out of his home to an unknown destination, had to acknowledge God at the beginning of his journey. He knew that a journey without God as a Pilot and Companion always ends fruitless and a sheer waste of time and energy.

If you missed it last year, here is another opportunity to begin with God in your journey this year. Jacob asked God to prosper his journey and make him return blessed to his father's house and that was exactly what God did despite his brother breathing flames and fire to kill him anytime he sets his eyes upon him and who finally saw him but could not carry out his initial plans, God is faithful as long as you acknowledge HIM as you set out.

GOING ALONE?
It is not too late to begin with God leading your way. When God leads the way and you follow, you can never be stranded in the journey of life. He knows the end of that journey before you embark upon it, so, He will always be the right source of information about the new year journey you are embarking upon.

Apart from leading and giving directions to you, He can also protect you against any assaults of the enemies during the course of the year, He can help you overcome all the temptations and other challenges that will eventually come your way as you journey along. You need to remain in Christ so that you can walk by His counsels and light. John 8 vs 12

THE WORD
You need the word of God in order to know more about the journey you are taking, about the God that will be your ally and companion in the journey. The word of God is not only a source of information but a spirit, life and weapon against the enemies. It is also the food for your spirit-man to be fed and become robust and muscular in order to withstand and stand against the strange spirits of the enemies. The word of God as a fire can be used to burn off every evil particles of the enemies; the word of God as water, you need to bathe yourself of all the spiritual filthiness and dirt daily in order to remain pure and holy; the word of God is the sword of the Spirit - Ephesians 6 vs 17, you need the word of God to equip, empower and fortify yourself for exploits in every area of your life.

PLANNING
"For which of you, intending to build a tower, sits not down first, and count the cost, whether he has sufficient to finish..." Luke 14 vs 28 - 32.

Planning helps you in many ways, it will help you get organized, helps you identify your weaknesses, strengths, limitations, needs and the measure of your available resources and provisions. It eventually help you to know how far you can go and to what extent you need help in your journey, project or any area of your life. Planning is bringing about the caricature of what the future can be and to know all that is needed or necessary to bring it to reality.

However, planning is not to underrate the power of God to provide as you set our in faith but actually makes you to know how much you need help from God for provisions to complete your project or journey. It makes you to be well-aware of the intricacies of the journey you are embarking upon and see clearly ahead before you take steps or a leap of faith.

FAITH
Faith is not blind, it sees into the unseen. It connects you to the God of all possibilities. Faith is not a remote control to get God do what He will not do but can draw the power of God to put an end to that your over-stretched and recurring problems embarrassing you non-stop. God is not a robot that you can control with your faith like a programmed remote control device but the ONE with emotions and wisdom to handle all situations.

Faith gives you peace and unspeakable joy of victory in the midst of troubles, terrible spiritual and physical battles. It has power to connect you to the presence of God to receive any blessing you desire as long as it synchronizes with the will of God for your life.

AS YOU RETURN...
In as much it is sure that journey with God guarantees abundant provisions, securities, eternal hope and victory at the end, will you ascribe all the glory to Him alone when you return in December? Will you not take all or part of the glory belonging to God to yourself for all your achievements? Think about these as you start your journey this year, all these God can see and smell afar off, and may cause Him to draw back from reaching out to you. It may also truncates the whole journey right from the beginning even before it starts!

DO NOT BE AN INGRATE! Let this be settled right now in your heart ahead of the time!

ARE YOU HIS?
If you are reading this and yet to surrender your life to Jesus, you can start this year's journey with HIM as your personal Lord and Saviour. Recognize that you are A SINNER before the HOLY GOD, regret your sins and repent of them, confess them to God, forsake and promise God never to return back to these sins again and HE will empower you with His Holy Spirit, you will acquire victory over sin, satan and his cohorts. Ask Jesus to wash you in His blood and write your name in the book of life for the sake of eternity. Prepare to live for God all the days of your life. If you have done these faithfully, I congratulate you for taking the right decision at this time when you needed it most!

Till next month if the Lord Jesus tarries, we shall meet again.

Shalom


NOTICE: Join us on WHATSAPP (+2348038359284) and on TELEGRAM (+2348022968451) with subject line "JOIN LGM" and you shall be added to our MINISTRIES" groups for daily fresh word from God through seasoned MINISTERS of God to refresh your Soul. God bless as you do.
Please fill the simple form below to join our mailing list, you will never miss any of our monthly messages again!
To be continued next month by His grace...

*** Click here for this Month's Prayer Points ***



* Click here to print this month's message

RAPTURE IS IMMINENT, DEATH IS SURE AND JUDGEMENT IS REAL!!!